As the weather warms up for Spring and Summer seasons, wanting to spend time outdoors becomes more desirable. However, spending extended periods of time can lead you to look at your exterior design and outdoor shading. This is where Sun Shades outdoor shading comes in.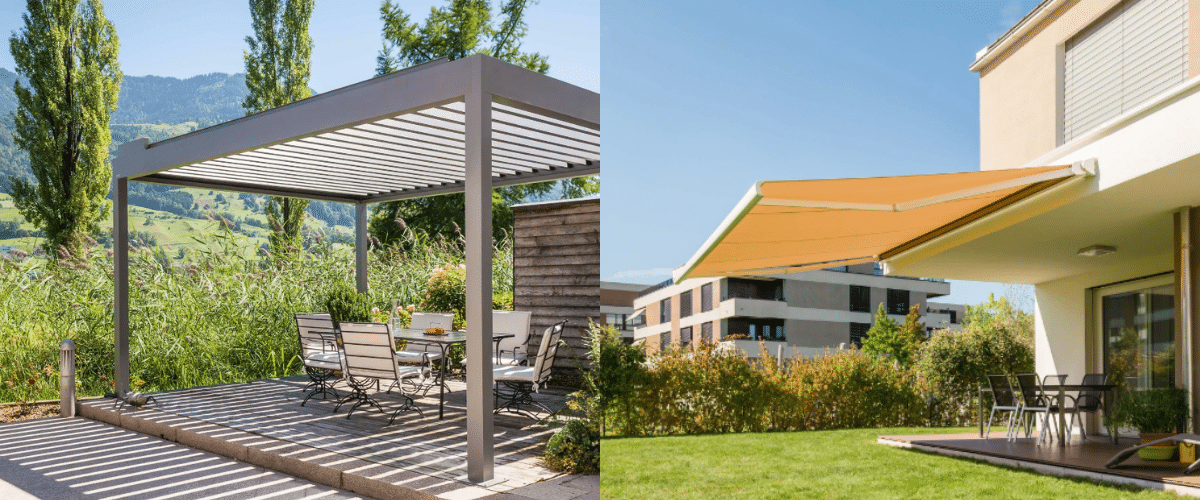 There are several ways to provide outdoor shading, including:
Pergolas:
Are a more permanent solution for outdoor shading. They consist of a series of overhead beams that create a lattice pattern, providing partial shade. Pergolas can be customized to fit any outdoor space and can be fitted with retractable canopies or shade cloth for added protection.
Outdoor curtains:
Can be hung from pergolas or on their own to provide privacy and shade. They come in various colours and fabrics, allowing for customization to fit any outdoor space.
Conservatory shading:
Are solutions to control the amount of sunlight that enters a conservatory, typically a glass or glazed structure designed to house plants or serve as an additional living space. The primary purpose of conservatory shading is to reduce solar heat gain, prevent excessive glare, and protect delicate plants from direct sunlight.
Pavilion shading:
Refers to shading solutions for open-air pavilions, which are typically roofed structures without walls that provide shade and shelter in outdoor spaces. The primary purpose of pavilion shading is to provide relief from direct sunlight and reduce the temperature within the pavilion.
Common pavilion shading solutions include roof extensions, pergolas, and fabric or mesh shades that can be installed overhead. These solutions can be fixed or retractable and may be motorized for convenience. Some shading solutions for pavilions also incorporate built-in features such as fans or misting systems to further cool the air.
Atrium shading:
Are open or partially enclosed spaces typically found in commercial or public buildings? The primary purpose of atrium shading is to reduce the amount of solar heat gain and glare and to enhance the aesthetic appeal of the space.
Common atrium shading solutions include light shelves, skylight shades, and interior shades or curtains. These solutions can be installed at various heights and angles to control the amount of sunlight entering the atrium and may be manually or automatically operated. Some atrium shading solutions also incorporate reflective or diffusing materials to enhance the distribution of natural light within the space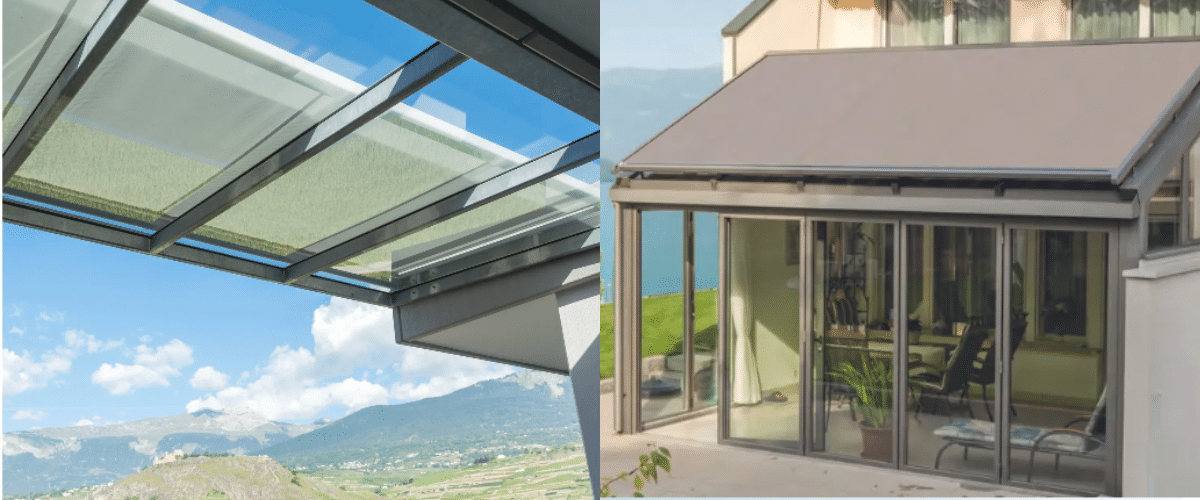 In addition to providing shade, outdoor shading options can also add aesthetic value to your outdoor space. They come in various colours, sizes, and shapes, allowing you to create a unique and personalized look. It's essential to consider the location and purpose of your outdoor shading options. Will it be used to provide shade for an outdoor dining area, a pool, or a playground? How much shade is required, and how much sunlight do you want to let through? These factors will help you determine which shading option is best suited for your needs. Talk to our team of experts today to bring your vision to life.
Outdoor shading is a must-have for the Spring/Summer season. It provides a safe and comfortable environment to enjoy outdoor activities while protecting your health from the harmful effects of the sun. Give us a call today at 855 945-1501 to discuss your needs.