PERGOLINO
Make your terrace into a very private holiday haven! With a pergola or terrace awning from STOBAG you are not only protected from damaging UV radiation, the sun's heat, and rain, but you can also add a Mediterranean flair to your terrace – ideal for relaxation and enjoyment!
The horizontal shading provides optimal protection and, depending on the design, is also available in a folded look. With perpendicular shading, you are perfectly protected from the sun, wind, and prying eyes.
Optional side and front glazing, which protects from wind and rain without dimming the view, is also available, so you can enjoy your terrace even in poor weather.
The corrosion-resistant aluminum construction ensures rigidity and a motor is installed as standard for ease of handling.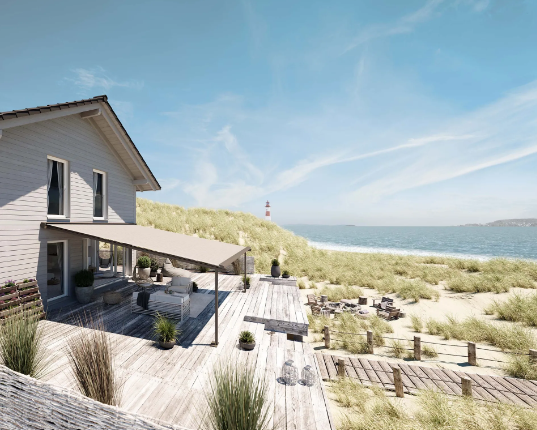 CONSTANT FABRIC TENSIONING
Integrated gas-filled cylinders ensure the cover remains taut in any position.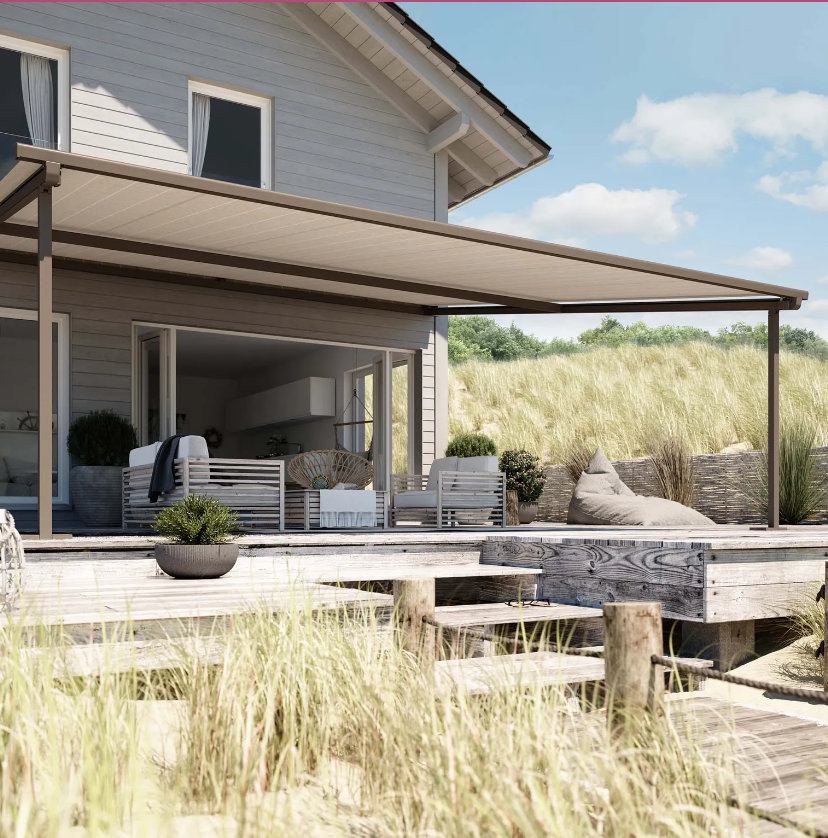 The MELANO folding awning emanates a Mediterranean flair and is reminiscent of holidays in southern climes. Well protected, you can spend hours relaxing in the cool shade. When raining, the robust RESISTANT fabric ensures optimum water run-off and, comfort options such as sliding glazing or atmospheric LED lighting, enhancing the carefree leisure experience.
Thanks to the wall junction profile option the MELANO folding awning with its cubic design can be attached seamlessly to the building cladding. Equipped with only two front supports, large areas protected from the sun and rain are created. The solid aluminum design can have its colour optimally adapted to the cover fabric and the façade.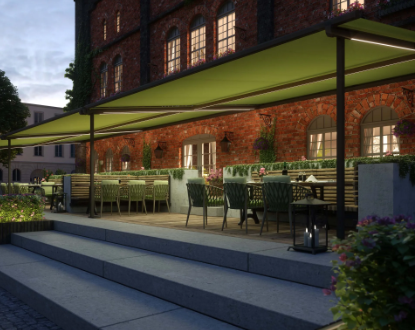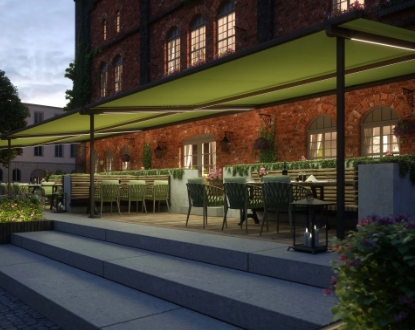 Thanks to the extended dimensions of the tried and tested terrace awning PERGOLINO, you can now provide decent shade over very large areas. Whether for a private party or a restaurant lounge, you and your guests are perfectly protected from the sun and rain. Side and front shading options can be assembled at a later date and increase the feeling of well-being on your terrace.
A support profile underneath the guide rails provides the system with a high degree of stability. The PERGOLINO is thus able to withstand even high winds and weather. The robust system is assembled easily and quickly. Integrated gas-filled cylinders ensure the cover remains taut in any position. The powerful electric drive system ensures effortless use.