The greatest window coverings combine elegance and function. They have a definite purpose in addition to beautifying your house. Depending on the specifics of the room, different tasks will be required of your window coverings. To get the most performance out of your window coverings, consider the specific needs of the windows in each area.
What to Consider First in a Room When Thinking About Adding Window Treatments
A Sun Shades design specialist will first evaluate the demands of the room and its windows before beginning any work. They provide the finest recommendations for your window coverings by taking into account both your personal needs and preferences and all the practical requirements of the room. Here are a few of the factors they take into account before making their suggestions.
Light Control
​​The orientation of your windows should be one of your initial considerations. In contrast to windows facing north, which rarely receive direct sunlight, windows facing any other direction invariably do so at some time over the course of the day. Window coverings all work to limit the amount of sunlight that enters a room, but they do so in somewhat different ways
Efficiency of Energy
Windows are one of the main ways heat enters and leaves your house, in addition to letting light in. It's crucial to maintain a cozy temperature in your house all year round. The amount of energy lost through your windows will depend on your location, the orientation of your windows, and the number of windows you have in each room.
Style
The design and atmosphere of your room should be reflected in your window treatment. Through use of colour, texture, and pattern, they should also accentuate and complete the decor. Also take into account any architectural features of your space that you wish to emphasize. Window treatments should enhance and beautify your room.
After discussing some of the key factors, let's review the window coverings that will best serve their functional requirements room by room!
Window Treatments for Your Living Room
The living room is typically the first space guests see when they enter your house. You may showcase yourself and show off your sense of taste, character, and vibe you wish to create across your home.
Vertical blinds might be the ideal solution for your living room if you want a certain amount of privacy and light control. For windows that are broader than they are tall, vertical blinds are a trendy solution that works well and may make your ceilings appear taller. They can be just partially opened to provide a little amount of seclusion while letting in a small amount of natural light.
Window Treatments for Your Bedroom
Versatility is the key to successful bedroom window coverings, so you should prioritize seclusion and light control in your bedroom. To ensure your privacy and to block out light and noise from outside in the evening, you'll want to be able to close your window coverings.
Our top choice is Roman shades. Roman shades come in a wide range of opacities and designs and may be fashioned from practically any material. Roman shades keep inside the window's frame while opening to provide a lovely decorative border around the window. They offer a measure of seclusion when closed and will filter out most of the light coming in through the window. The material of the Roman blinds will affect how much light is blocked. They can also be lifted only partially, leaving a portion of the window uncovered and revealing some of the shade's colour and design.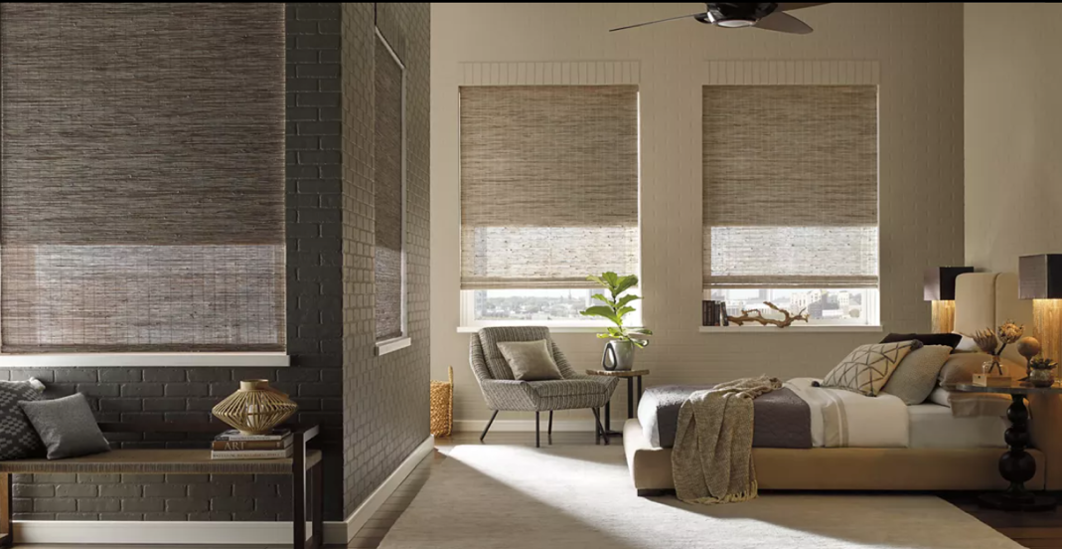 Santa Rose Wood Roman Shades
Window Treatments for Your Dining Room
Dining rooms are places where people congregate and celebrate. When choosing window coverings for your dining room, keep in mind that the majority of these activities will occur during mealtimes. Elegant and edgy statements look wonderful in your dining room, so feel free to give this space a "theatrical" flare.
Dining rooms look beautiful with wood blinds since they boost any setting's decor. There are a wide variety of wood blind designs, colours, and finishes available. A dining room that could receive a lot of light during the day might benefit greatly from the light control that wood blinds provide. When they are closed, wood blinds also provide total discretion. Wood blinds are an attractive and fashionable solution if the windows in your dining room need to have a certain level of privacy or light control.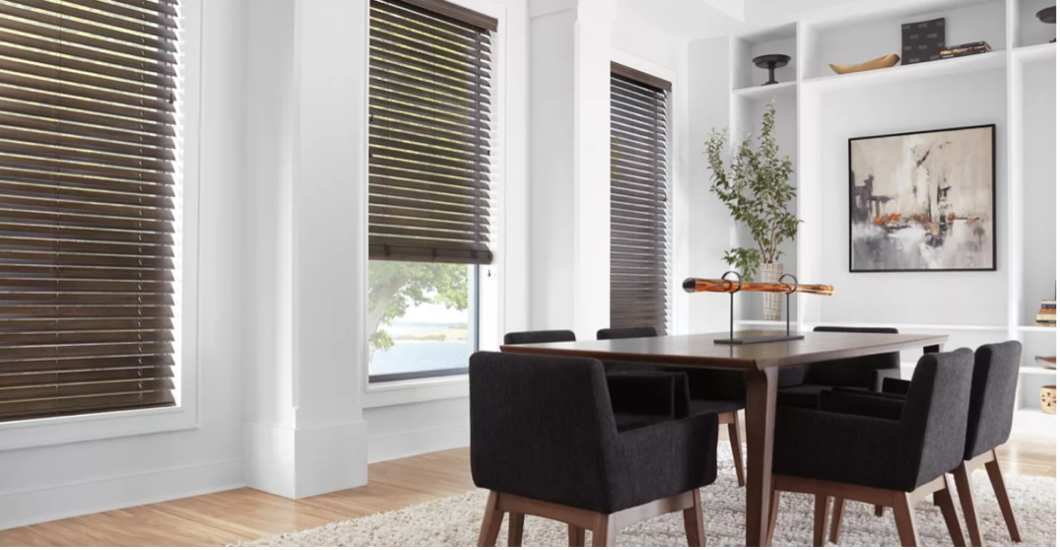 Patina Glazed-Like Alternative Wood
Window Treatments for Your Kitchen
Kitchen windows are designed to allow in a lot of natural light, so your covering's main purpose should be to frame your windows without obstructing the light. You might want to think about the kind of material for your window coverings depending on where your windows are positioned. Certain materials may become damaged by splashes or may absorb scents if your windows are near sinks or worktops. Look for window coverings made of sturdy, water resistant material if your windows are situated in an area where they could be exposed to moisture or humidity.
Faux wood blinds offer the lovely appearance of wood while being far more resilient to dampness. They are also incredibly adaptable for controlling light. Depending on whether they are fully opened, slightly opened, or closed, they may allow in as much or as little light as required.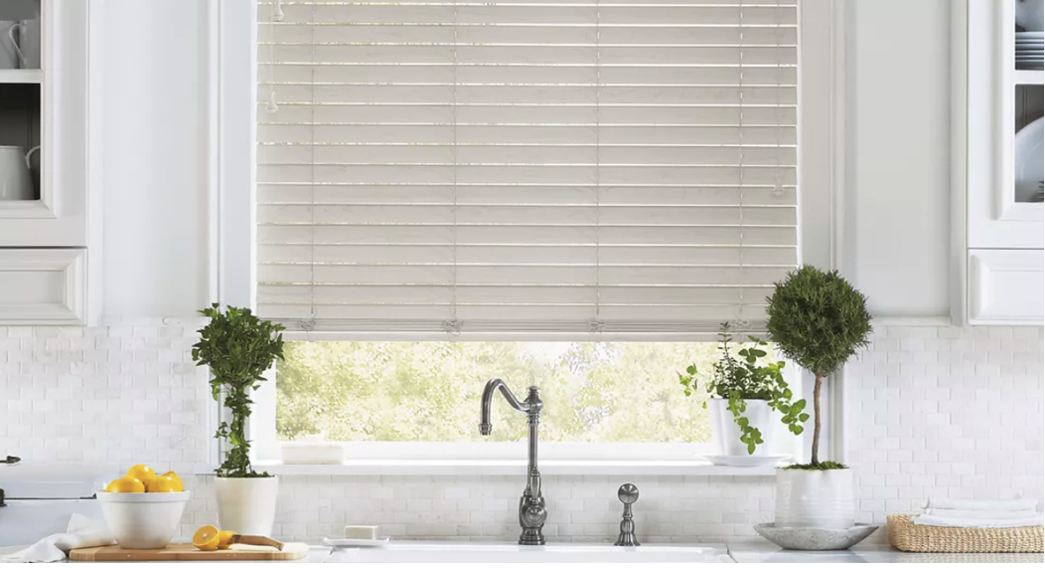 Wood Grains Alternative Wood
The window coverings in any space are crucial. They are essential in assisting each room in fulfilling its main function while enhancing the area's attractiveness and elegance. Sun Shades provides the window coverings you need for every area in your home that you want to improve. Your Sun Shades expert will be able to assist you in reducing the hundreds of possibilities to what would work best for you. Our aim is to discover the ideal window coverings that suit your requirements and way of life.
See what our Sun Shades team can accomplish for your home by getting in touch with us right now! To book a free design consultation, call (855) 945-1501 now.