The warm and sunny days of summer are finally here, beckoning us to spend more time outdoors. Whether you have a spacious backyard, a cozy patio, or a sprawling deck, maximizing your outdoor living space is essential for soaking up the summer vibes. To help you make the most of the season, our outdoor shading solutions are designed to create comfortable, stylish, and versatile spaces for relaxation and entertainment. In this blog post, we will explore the benefits of outdoor shading and how it can transform your outdoor areas into inviting retreats.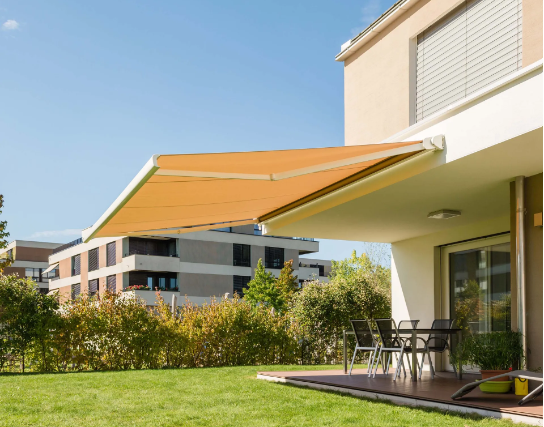 Stay Cool and Protected from the Sun
One of the primary reasons for investing in outdoor shading is to create a cool, comfortable outdoor living space. The sun's rays can be intense, causing discomfort and even sunburn. Our shading solutions, such as retractable awnings and pergolas, provide shade and protection, allowing you to enjoy the outdoors without worrying about harmful UV rays. With the ability to extend and retract the shading at your convenience, you can strike the perfect balance between sunlight and shade, creating an oasis of comfort.
Extend Your Living Space
Imagine expanding your living space beyond the four walls of your home. With outdoor shading solutions, you can effortlessly extend your living area to the outdoors. From retractable awnings that cover your patio to pergolas that create a defined outdoor room, our shading options help you make the most of your outdoor space. You can create an outdoor dining area, a lounge space, or even a home office under the cool shade, allowing you to fully embrace the joys of summer.

Embrace Versatility and Flexibility
Our outdoor shading solutions are designed with versatility and flexibility in mind. Motorized shading systems allow you to easily adjust the shading according to your preferences and changing weather conditions. With the touch of a button or through smart home integration, you can effortlessly extend or retract the awnings and adjust the slats of a pergola. This convenience and adaptability make outdoor shading an ideal investment, providing you with ultimate control over your outdoor spaces.
Elevate the Aesthetics of Your Outdoor Areas
Outdoor shading not only offers practical benefits but also enhances the aesthetics of your outdoor areas. Our shading solutions come in a wide range of colours, materials, and designs to complement your existing décor and style preferences. Whether you prefer a modern and sleek look or a rustic and natural feel, there is an outdoor shading option that suits your taste. By incorporating shading elements, you can add depth, texture, and visual interest to your outdoor spaces, transforming them into stunning retreats.
As summer heats up, it's time to take full advantage of your outdoor spaces with our premium outdoor shading solutions. From staying cool and protected from the sun to create intimate and versatile areas, outdoor shading enhances your comfort, privacy, and style. Embrace the season by investing in outdoor shading and transforming your outdoor spaces into inviting havens for relaxation and entertainment. Kickstart your summer and make memories in the shade with us. Contact our team of experts for a free quote today.
VISIT OUR SHOWROOM
6 Locations across the GTA. Locate the one nearest you.