Skylights are a charming addition to any home that will allow more natural light to enter smaller spaces, but on occasion, they can let too much light in, and even unwanted heat or cold air in depending on the time of year. Rather than remove or cover your skylight completely, adding a window treatment will allow you to filter and control the light and temperature in your space.
Before we jump into a few recommendations from our team, it's important to note a few details before deciding on the best treatment for your skylights. The direction your skylights face (north, west, east, or south) and the overall function of your skylight (does it open or close?) are crucial factors when deciding on treatments as this will determine what your needs are. Whether you need an option that controls temperature more than anything else, filters light effectively, or can be easily opened so your skylight can continue to function as it was designed to.
Now, let's take a closer look at a few of our favourite options for skylight treatments!
SkyLift™ Duette® Honeycomb Shades
Hunter Douglas Honeycomb shades are designed to insulate your home year-round by properly filtering cold and warm temperatures. As a result, Honeycomb Shades can help lower your energy consumption and costs. This is an excellent option if you are looking to conserve energy, control your space's temperatures, and create a customized look as Honeycomb Shades are available in a number of colours, textures and pleat sizes.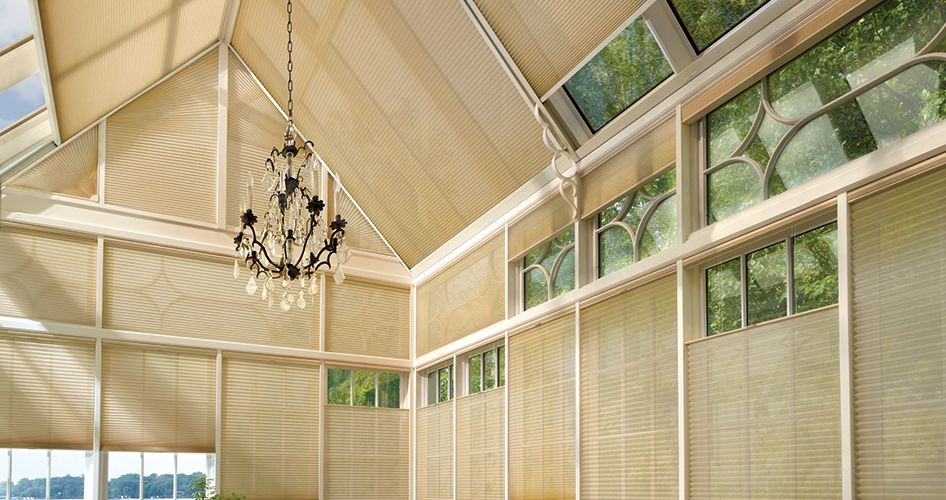 By adding the Skylift™ function, you can manually control your treatments or with a telescoping pole for hard-to-reach areas.
Somner® Vertical Blinds
If you have a Skylight that brings in harsh, direct light most of the year, selecting the Hunter Douglas Somner® Vertical Blinds could be your best option! Not only do they come in a wide range of colours and textures, but fabric options as well. This gives you full freedom to design around your space and select a treatment that offers 75% protection against UV rays. This added feature will make your space more comfortable and keep your furniture from fading over time.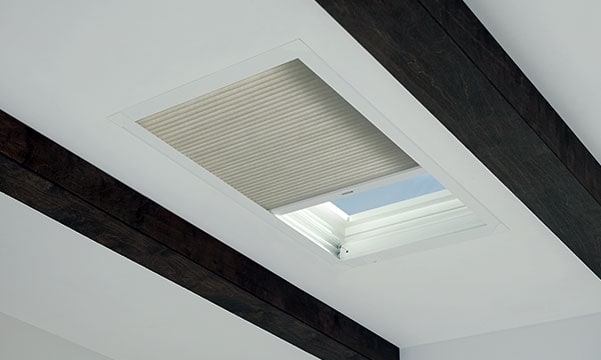 If your home has a skylight that has always been on the list, get a free quote from our team here! We are ready to help you pick the perfect option for your space.