Automating your home is here and growing as we move through the months and years. Automation is evolving quickly, from household names like Alexa or Google to automatic lights and cameras. At Sun Shades we have what you need next – Hunter Douglas Powerview blinds. 
Automatic blinds and shades are here to stay and are becoming increasingly popular in homes. Imagine sitting down to watch a movie, all snuggled up, but just as you are about to press play you realize you forgot to close the blinds! The drama of it all – and we know this has happened to you at some point. Have you ever noticed that you never get as comfortable the second time around? 
Or let's take your mind back to that morning you snoozed your alarm one too many times and were late for work. Avoid these situations with automatic blinds. In the evenings, close your blinds and shades from the couch using your phone before your movie. In the mornings, schedule your blinds to open automatically at 7am to flood your room with light, making sure you jump up in the mornings.
Automatic blinds are not just trends, they are very beneficial in a home! Let's take a closer look at how automated treatments can truly impact your space.
Tall Windows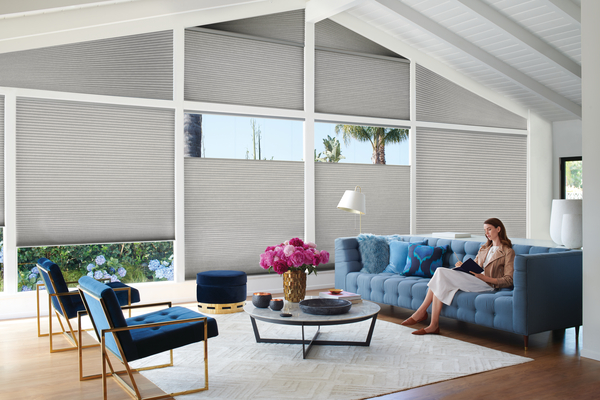 HUNTER DOUGLAS SHADES
If you have two-storey windows in your house or tall windows which are a pain to reach, then automatic blinds are the perfect solution for you to open and close these with ease. No more climbing, stretching and pulling at your window treatments. There are various window treatments available for tall windows. Read one of our previous posts detailing tall windows here.
Opening Windows 
Do you have any windows that tend to be opened and closed much more regularly than any others in your house? Perhaps you get the evening sun reflecting on your TV screen or shining into your work computer in the early morning. Automatic blinds will make this super easy for you to open and close your blinds as many times as necessary throughout the day.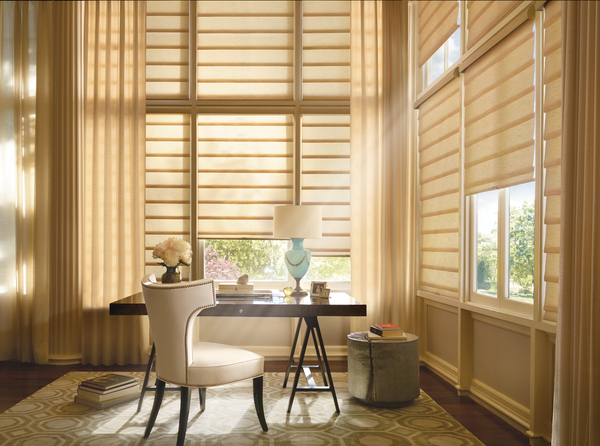 VIGNETTE® ROMAN SHADES
Schedule 
If you would like to arrive home to your blinds half or fully closed after work, or if you are taking a trip away and want to make your house appear that you are still there for security purposes, set your blinds to schedule through the app to open automatically in the morning and close in the evening. Learn about the capabilities you can have through the Hunter Douglas App.
Increase Homes Value
Lastly, as we look back to what we began this post about, we are always chasing the latest trends and modernizing our homes. Our Hunter Douglas blinds will increase the value of your home if you decide to put it on the market in the future – another added bonus!
The majority of our Hunter Douglas collection can be made automatic so that you can control them through your phone, tablet or remote control. Our Hunter Douglas blinds and shades are great for those hard-to-reach areas, areas of your home where you need to open and close your windows and window treatments multiple times a day, increase the value of your home, and make your life that bit easier.
Contact us today for further information and a free quote at 855 945-1501!