Your home decor pieces, including your window treatments, should be practical, fashionable, and simple to care for. Nobody wants to clean or maintain window coverings for hours on end. Fortunately, there are a variety of blind designs that are not only lovely but also easy to clean and maintain.
Here, we will demonstrate which blinds and shades are the simplest to maintain. You can use our ranked list to identify which window treatments require the least upkeep, and which require a greater time investment. In this approach, you can discover the ideal balance between style and maintenance to suit your preferences and the requirements of your home.
Which Blinds Are Simplest to Clean?
The good news is that blinds and shades often require little upkeep. The majority only need a quick dusting every few weeks and an occasional deep cleaning if they are soiled or grubby. To avoid harming the materials, some styles may need additional consideration and care when cleaning.
Here, we've ranked treatments from the most straightforward to clean to those that require a little more effort and time. Find out which window coverings are the simplest to maintain by reading on to find the ideal window coverings for your house.
'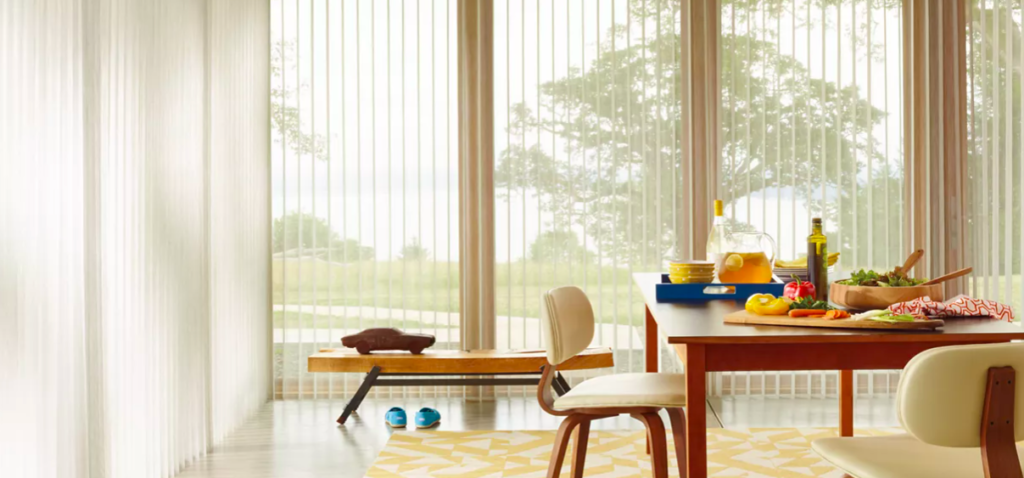 Hunter Douglas Luminette® Tera Fabric in Sagebrush
1. Vertical Blinds
Vertical blinds have long slats that run up and down rather than side to side, making them the easiest blinds to clean. This means that compared to horizontal blinds, these multipurpose blinds collect less dust since it will settle on the floor rather than the vertical slats.
These blinds are available in fabric and PVC varieties, with PVC requiring the least amount of upkeep. To keep fabric vertical blinds looking their best, you should occasionally vacuum them. On the other hand, PVC vertical blinds just need to be feather dusted once every few weeks.
Check out a sampling of the vertical blinds we offer here.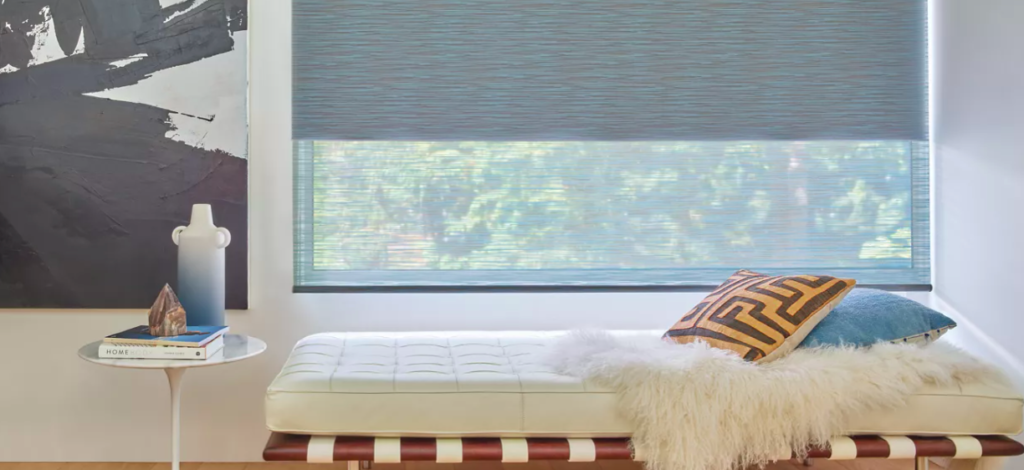 Hunter Douglas Designer Roller Shades 
2. Roller Shades
Roller shades are relatively simple to maintain, much like vertical blinds. These treatments are available in a wide variety of fabrics, including blackout and waterproof designs, as well as thermal and fire-resistant ones. Additionally, delicate silk and thin voile materials are available. The most straightforward roller shades to maintain are the robust waterproof varieties, whereas delicate silk roller blinds demand a little more work.
Simple vacuuming with an upholstery brush attachment every few weeks will clean most roller shades. As an alternative, you can clean the fabric with a microfibre cloth that is just slightly damp. You might need to take the cloth off delicate silk roller shades so that they can be dry cleaned. For the greatest results, pay special attention to the fabric and adhere to the care instructions.
Visit the Hunter Douglas website to see some of the most popular materials available.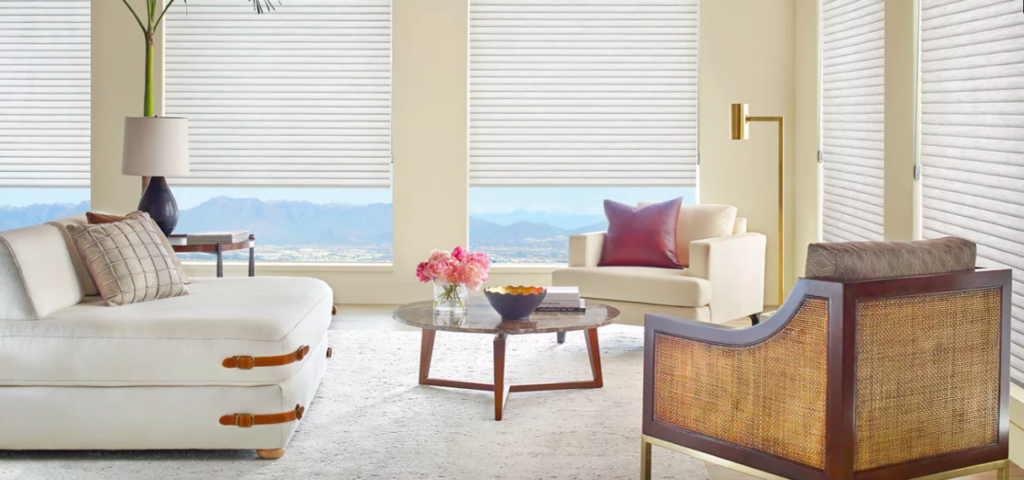 Hunter Douglas Sonnette® Thatcher Fabric
3. Honeycomb and Cellular Shades
For those who prefer thermal treatments, honeycomb shades are a popular option. A layer of insulation is created by the cellular design of these treatments. They can be utilised to keep warm air into your house during cold weather or to keep hot sunshine out during hot weather. As a result, they may enable you to reduce your heating and cooling expenses.
These shades are not only energy-efficient, but also remarkably cleanable. They are often composed of durable, dust-repelling anti-static materials. As opposed to conventional cloth blinds, they won't require as frequent cleaning. When dust begins to accumulate on the window treatments, simply vacuum them.
Learn more about honeycomb shades.

Hunter Douglas Vignette® Leela Fabric
4. Roman Shades
Roman blinds are available in a wide variety of fabrics, just like roller shades. The key distinction is that roman shades have tasteful folds when lifted. These treatments can gather dust more quickly than others if you frequently have them in the open position. Roman shades frequently have soft fabrics, so you'll need to take extra precautions to prevent tearing or other damage when cleaning.
Operate the shades frequently or keep them closed whenever you can to make cleaning simpler. This may lessen the amount of dust that collects in the pleats. Use a soft upholstery brush to gently vacuum the fabric on a regular basis. To restore the shades to perfect condition without harming the fabric, you might need to engage a professional dry cleaner if the fabric becomes discoloured.
For help choosing the perfect window treatments for your lifestyle, contact our team of experts. We'll walk you through your options, measure, design your custom treatments, and install! Give us a call at (855) 945-1501.