Which Blind Types Work Best with Various Architectural Styles: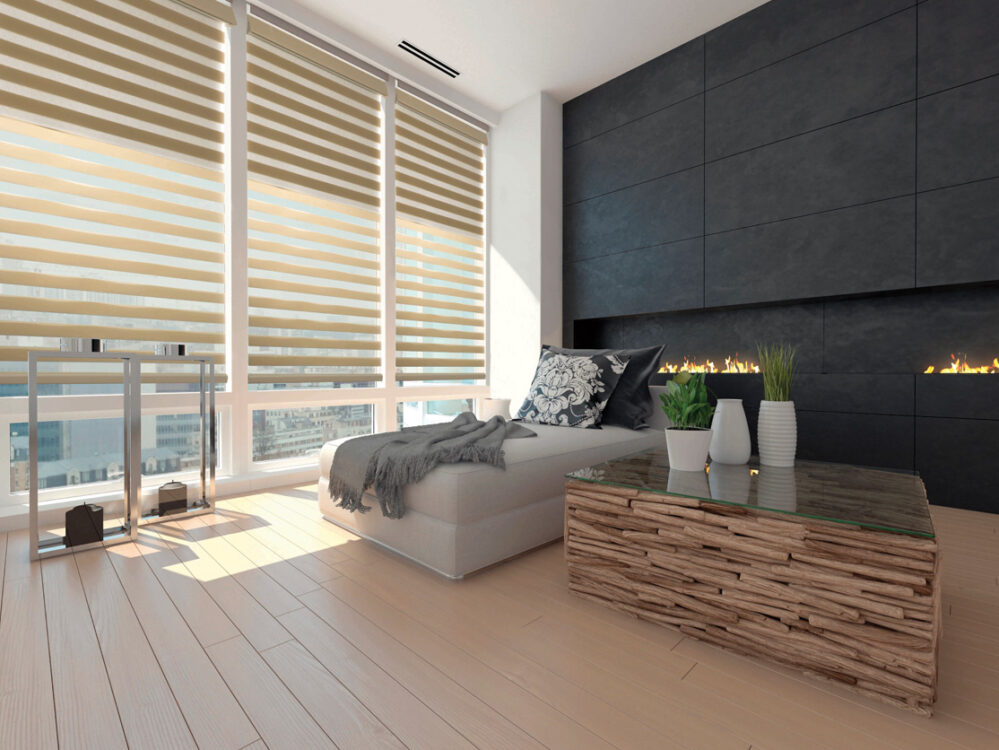 When it comes to decorating our homes, we all want to strike the perfect balance between style, functionality, and comfort. Window treatments play a pivotal role in achieving this harmony, as they not only control natural light and privacy but also add character and flair to our living spaces. In this blog, we'll take you on a journey through different architectural styles, from contemporary to traditional, and explore the best blind types that complement each one beautifully. Let's dive in and discover the best window treatments for your home!
Contemporary architecture embraces sleek lines, open spaces, and minimalist aesthetics. To match this style, you'll want window treatments that exude elegance while maintaining a clean and uncluttered look. Here are some blind types that perfectly align with contemporary homes:
Roller Blinds: These simple and modern blinds are an excellent choice for contemporary homes. They come in various fabrics and patterns, allowing you to select the perfect design that complements your interior.
Venetian Blinds: With their horizontal slats, Venetian blinds offer a sleek and sophisticated appearance, making them an ideal fit for contemporary spaces. Opt for aluminum or faux wood finishes for a modern touch.
Motorized Blinds: Embrace the latest technology with motorized blinds that add convenience and style to your contemporary home. Control them with a remote or even through your smartphone for the ultimate modern living experience.
Modern farmhouse style is all about blending rustic charm with contemporary elements. Achieve the perfect balance by choosing window treatments that infuse warmth and comfort while staying true to modern aesthetics:
Roman Shades: These soft fabric shades provide a cozy, farmhouse feel while maintaining a tailored look that suits modern spaces. Opt for neutral tones or classic farmhouse patterns for a timeless appeal.
Woven Wood Blinds: Bring nature indoors with woven wood blinds. The organic textures and earthy tones perfectly complement the rustic farmhouse vibe while adding a touch of sophistication.
Sheer Curtains: Create a soft and inviting atmosphere with sheer curtains that allow natural light to filter through while adding a touch of elegance to your modern farmhouse home.
Traditional homes are known for their timeless elegance, rich detailing, and classic design elements. To honour the architectural beauty of these homes, choose window treatments that exude refinement and sophistication:
Plantation Shutters: With their stately appearance, plantation shutters are a staple in traditional homes. They offer excellent light control and privacy while adding a touch of old-world charm.
Draperies with Valances: Traditional homes often feature draperies with valances for an opulent look. Choose luxurious fabrics and ornate patterns to enhance the grandeur of your windows.
Cellular Shades: These versatile shades provide a seamless blend of style and functionality, making them an excellent choice for traditional homes. Opt for neutral colours to maintain a classic look or rich hues for a touch of drama.
Mid-century modern architecture is characterized by its clean lines, open spaces, and retro flair. To honour this iconic style, choose window treatments that are both stylish and functional:
Vertical Blinds: With their vertical orientation, these blinds add height and a touch of retro appeal to mid-century modern homes. Opt for sleek, vinyl slats for an authentic mid-century look.
Retro Patterns: Embrace the vibrant colours and funky patterns reminiscent of the mid-century era with roller blinds or Roman shades. Add a splash of boldness to your windows while staying true to the overall theme.
Craftsman-style homes are all about natural materials, handcrafted details, and an emphasis on functionality. Here are some window treatments that complement this architecture beautifully:
Craftsman-Style Draperies: Embrace the craftsmanship of the era with custom-made draperies that feature intricate detailing and earthy tones. Pair them with tiebacks or wrought-iron hardware for an authentic touch.
Blinds: Enhance the natural beauty of your craftsman home with blinds that come in various finishes to match your interior. Opt for wider slats for a bolder statement.
The right blind types can make a significant impact, not just on the aesthetics but also on the functionality of your living spaces. Before making your final decision, consider your personal preferences, the amount of natural light in each room, and the level of privacy you desire. Talk to our experts and get a free quote here.