Window coverings are an important element if you're building a new home or renovating an old one. One of the biggest errors you can make when picking window coverings for your home is to choose one style of window treatment and put it on every window. Because each space has its own personality and requirements, you must select the appropriate window coverings for each one.
The best window treatments for humid areas like bathrooms, kitchens, and laundry rooms should mix style, privacy, light management, moisture resistance, durability, and upkeep. 
What is the best kitchen window treatment?
As the kitchen is the heart of the home, it's crucial to select a treatment that not only complements your space, but offers function and will last for years to come. Let's take a look at our team's top recommendations for treatments that can withstand the humidity in your kitchen! 
Blinds 
Window blinds are composed of hard materials such as vinyl, aluminium, or wood. Blinds are excellent window coverings because they help preserve the visual and practical appeal of your kitchen. These window coverings can prevent the sun's intense rays from damaging your expensive kitchen equipment.
Composite or synthetic blinds are often regarded as the ideal window treatment for humid environments because of their ability to withstand warping and water damage. By selecting blinds, you'll have an aesthetically pleasing window treatment that endures the test of time, even in humid rooms.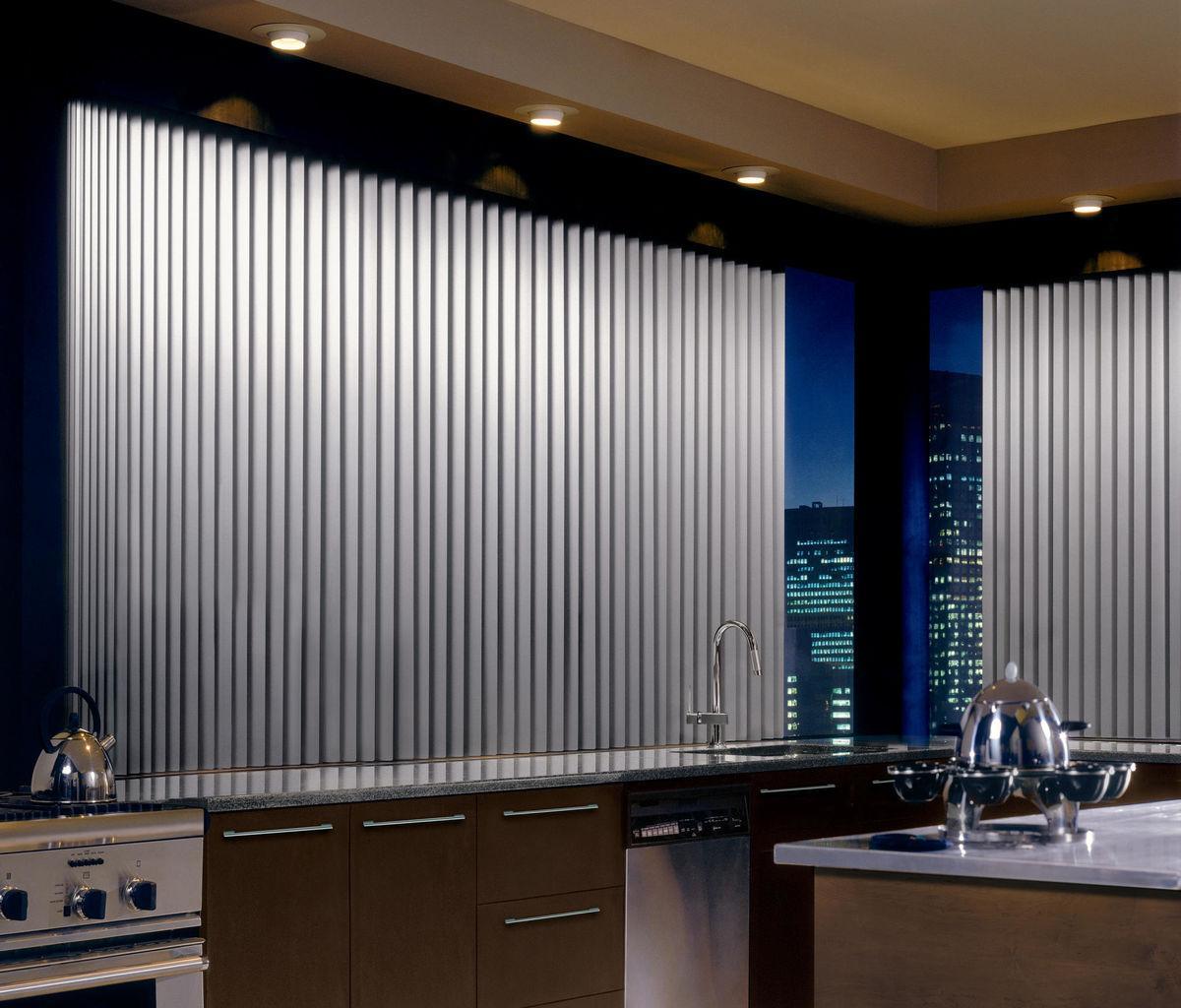 Hunter Douglas Somner® Vertical Blinds
Shades
Woven shades are one of the greatest window treatments available today! Woven wooden shades can soften the metallic effect you generally see in kitchens by giving your space a more natural feel. Bamboo, stiff grass, reeds, and jute are just a few of the materials that may be used to make woven wooden blinds or shades. All of these materials are long-lasting and can retain their form against humidity. With proper care, your kitchen shades will last you for years.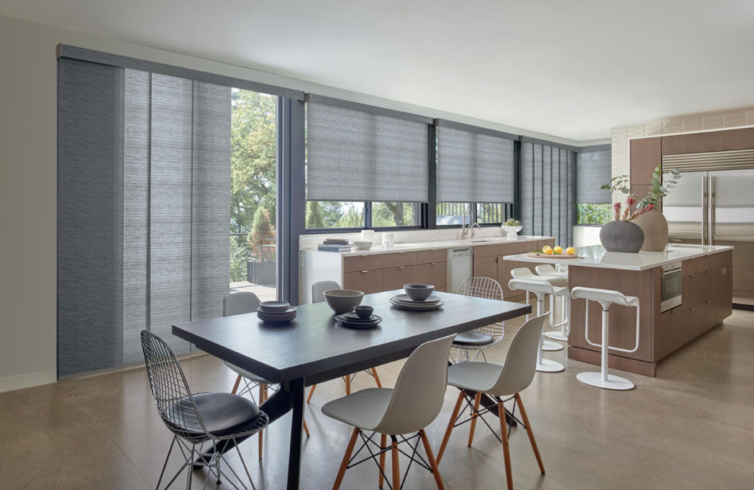 Hunter Douglas Somner® Vertical Blinds
Shutters made of composite materials 
Shutters are a form of window treatment that consists of a solid frame with louvres fixed on it. These composite window shutters are ideal for moist locations since they are low-maintenance and provide near-complete control over air flow and privacy. One of our favourites is the Hunter Douglas Palm Beach with Polysatin™ Shutters. These shutters offer the ultimate breezy beachside appeal and are ideal for hot and humid rooms.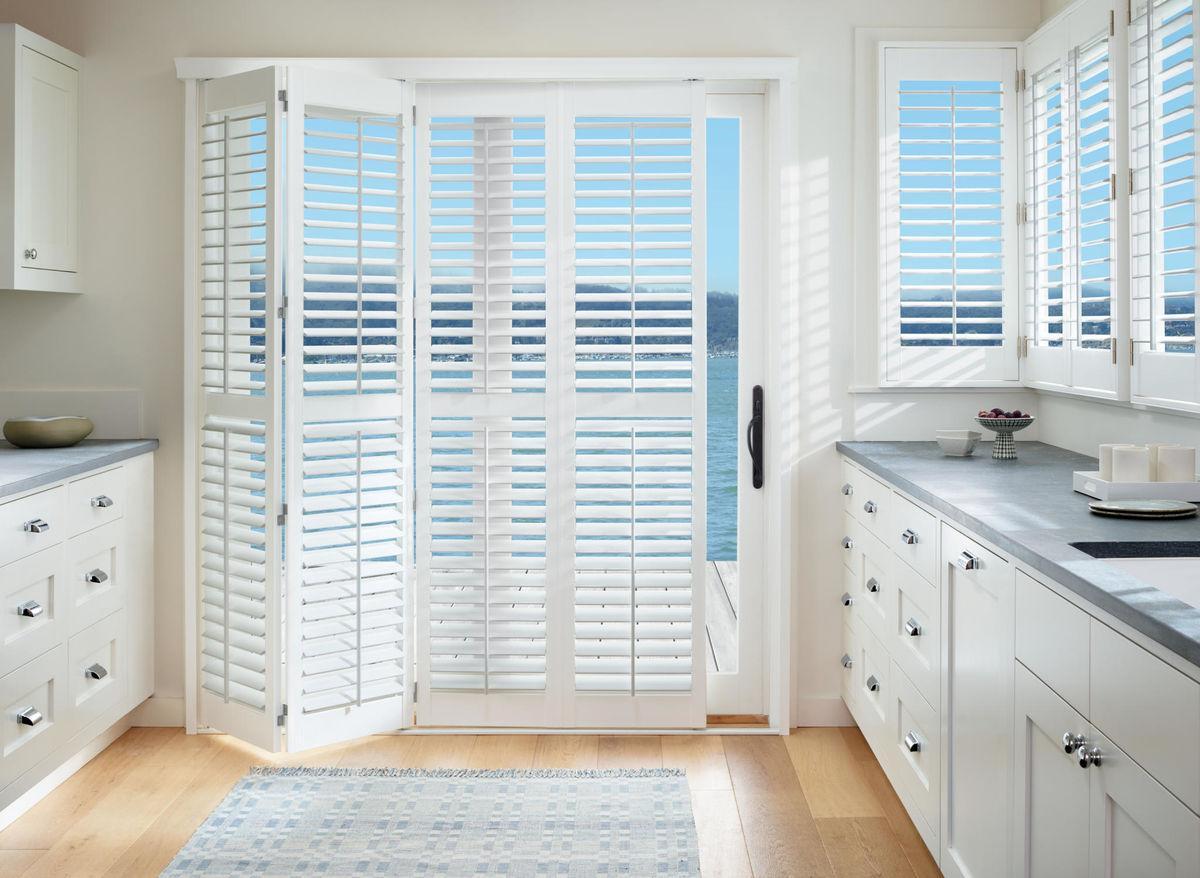 Hunter Douglas Polysatin™ Shutters
What are the ideal window treatments for bathrooms?
Bathroom window coverings can include shades, blinds, and shutters. Consider your privacy needs, where your windows are located, and which bathroom blinds will be sturdy enough to handle excessive heat and humidity when narrowing down your selections. 
Shutters made of composite materials 
When tilted down, these bathroom window coverings not only provide seclusion but also allow a little amount of natural light to pass through. Because the bathroom is a damp environment, it's best to avoid wood shutters and instead go for vinyl or composite shutters.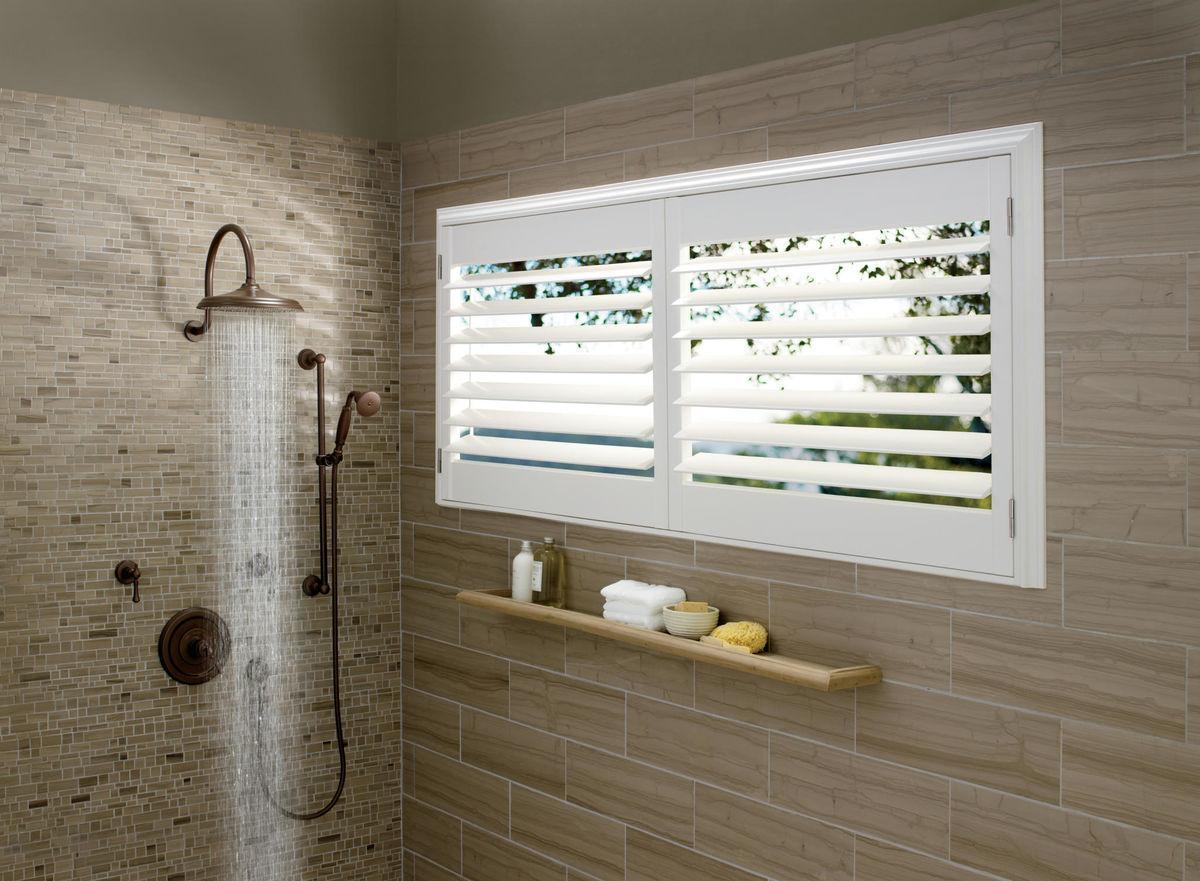 Hunter Douglas Polysatin™ Shutters
Vinyl blinds / faux wood blinds 
Blinds are also a great option for your bathroom and shower windows. Blinds come in a variety of materials, including vinyl, PVC-based imitation wood, wood, and metal. The fact that vinyl or imitation wood blinds are waterproof and moisture-resistant makes them a great choice for moist locations. Vinyl blinds are resistant to rotting, which is a typical problem with wood window blinds in extremely damp environments.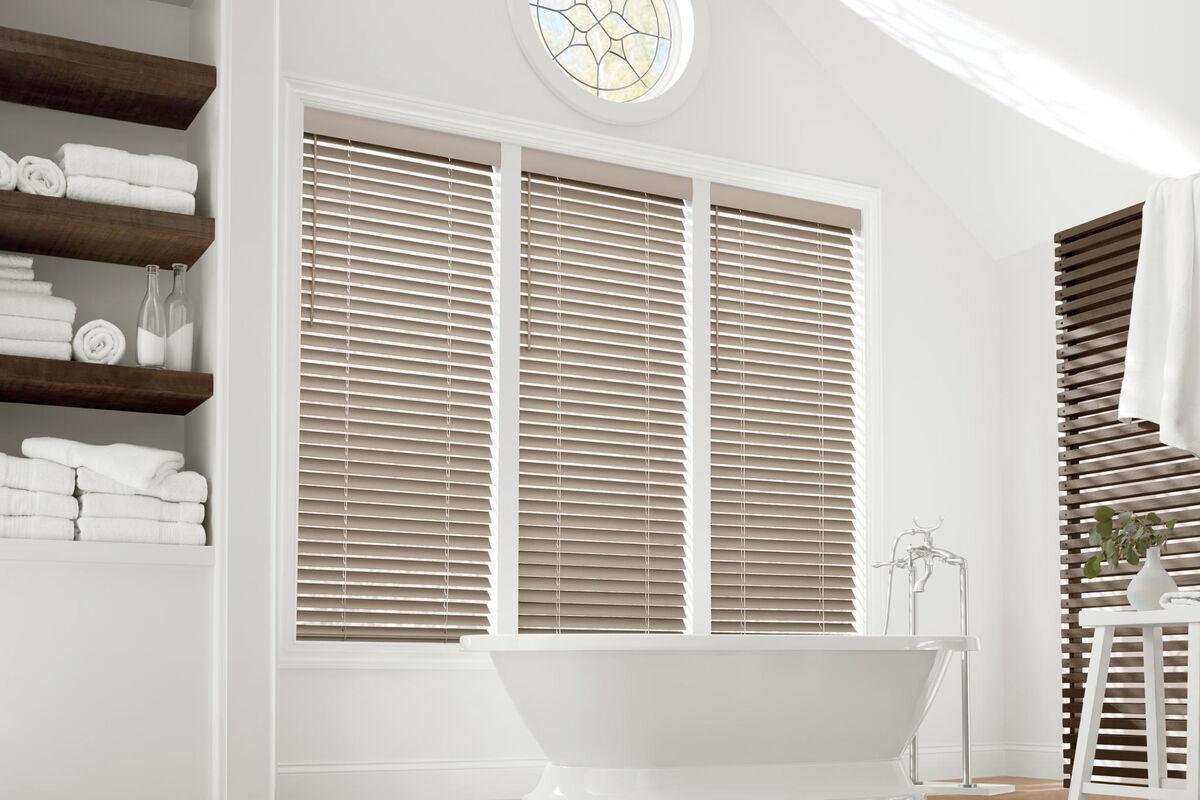 Hunter Douglas Alternative Wood Blinds
Get all your window treatments in one place
These options are the best solutions for any moisture-prone areas in your home! As you look for the window treatments that will hold up to your high-humidity areas like the bathroom and kitchen, book a consultation with one of our design specialists. We will show you our complete line of moisture-resistant window treatments.
We can't wait to assist you in selecting the best treatment based on your individual needs and desires. One that is perfect for you, your family, and your home.