With warmer weather getting closer and closer, our team of experts want to help you create a comfortable living space that compliments longer days, direct sunlight, and those warm summer winds. Your home's patio or sliding glass doors are the extension to your outdoor living space, so selecting the perfect treatment for your home is key! Let's take a look at the very best options available depending on your needs.
Bi-Fold and/or By-Pass Shutters
If your home has a lot of traffic coming in and out of your patio or glass doors, shutters are great as they are commonly used for their sliding and/or fold to open feature. There are a number of amazing benefits when adding shutters to your home as they are built to last in comparison to other treatments such as curtains or blinds, they have an overall elegant and contemporary look, they lead in terms of function, and they are extremely easy to clean and maintain.
Our team of experts would recommend Shade-O-Matic as they have a polished finish, or any other vinyl shutter as they are frequently used in residential homes for their durability. It may be a difficulty decision to make, but shutters can bring a refined look to your sliding doors and let that warm, almost tropical air flow through your home this summer!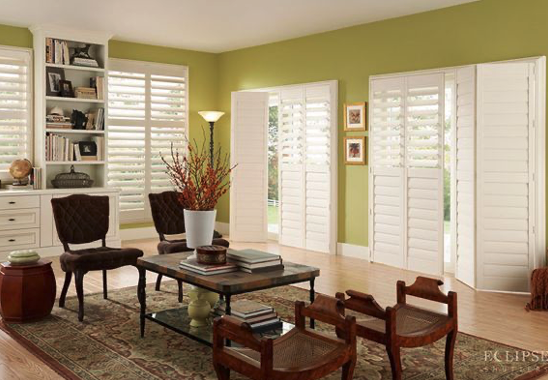 Panel Track Vertical Shadings
For homeowners looking to add a modern touch through a non-traditional style choice for sliding door treatments, vertical blinds are a great option! The Hunter Douglas Skyline® Soft Vertical Blinds have a contemporary look that can make your sliding doors a focal point in your room, while providing partial views to the outside. This is the ideal choice for a homeowner looking for a treatment that has smooth operation, a number of rich and textured fabric options to select from, and that can filter light efficiently.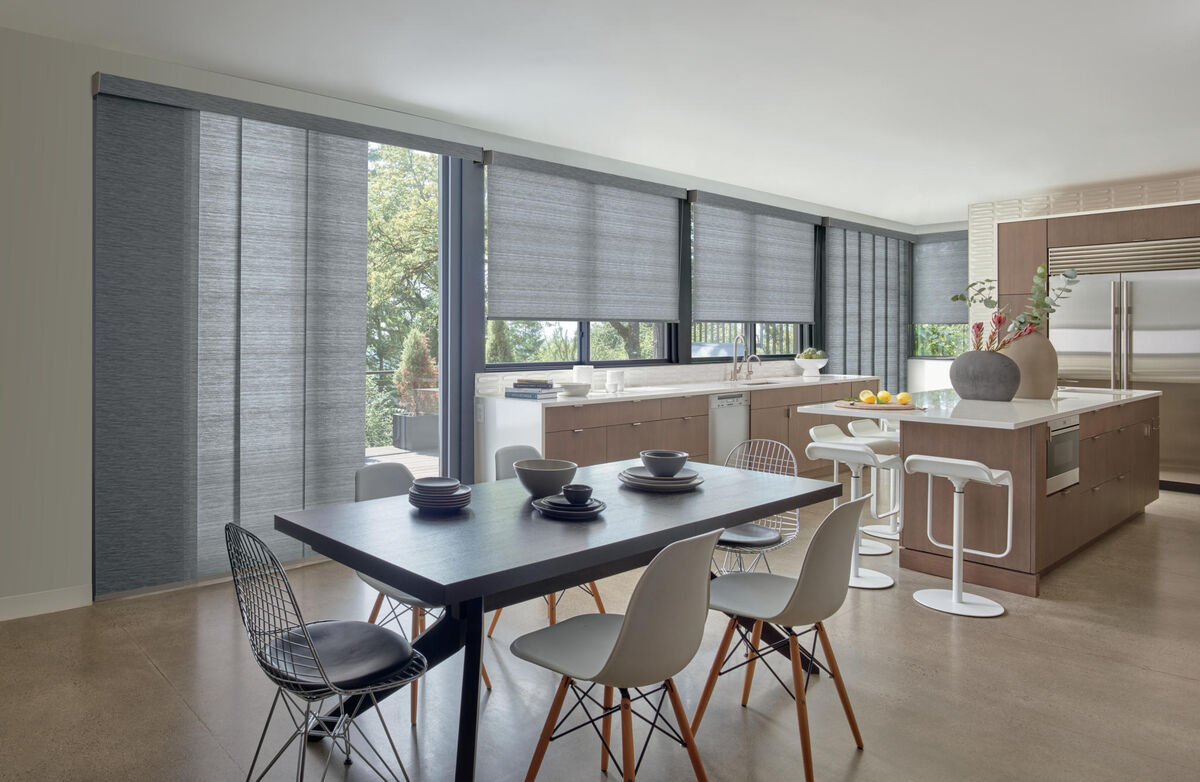 Drapery & Curtains
Drapery is the perfect way to add a soft, elegant touch to your glass sliding doors. For homeowners who are looking for added privacy, an elevated look, and advanced temperature and light control, drapery is the best choice. This option is also ideal for lower traffic homes, where your sliding doors are not opened as frequently.
With a number of fabrics and style choices, as well as features like UV protection, blackout and light control, and sound filtering, we can create contemporary drapery panels that are designed to fit your home's needs, whatever that may look like! Drapery and curtains can also be combined with additional window treatments in order to increase privacy and light filtering.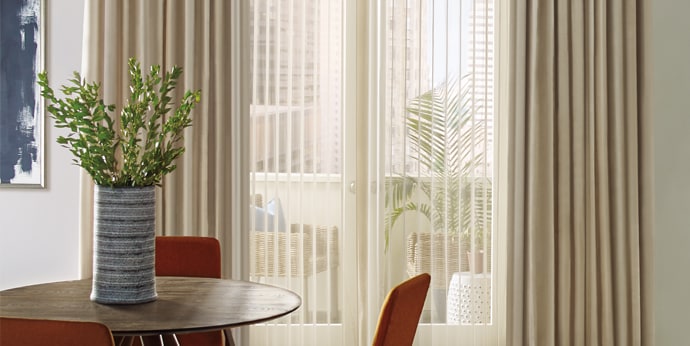 With the summer months closely approaching, it's time to dress up those sliding doors and let us much (or as little) light and warm air into your home as you'd like! Our experts at Sun Shades are here to support you through your home's transformation, and we are dedicated to helping you pick the perfect option. Give us a call or get a FREE QUOTE here if you're ready to get moving on your home's sliding door window treatments.