Home offices have become the norm for many of us, whether that means a dedicated room, or a spot in your home that you can call your office. Our team wants to ensure that wherever you are working from in your home is comfortable, well-lit and relaxing, so you can stay focused and productive. We have a number of window treatments that are perfect for any office space in your home, whatever that looks like!
Reduce Glare with Roller Shades or Screen Sun Shades
If you are working in your living room or kitchen, or even in a designated office space, direct sunlight and glare can be a disruption. Creating an effective workspace where you can control the sunlight to avoid squinting, uncomfortable sitting positions in order to dodge the light, and screen interference can be done with the right window treatments!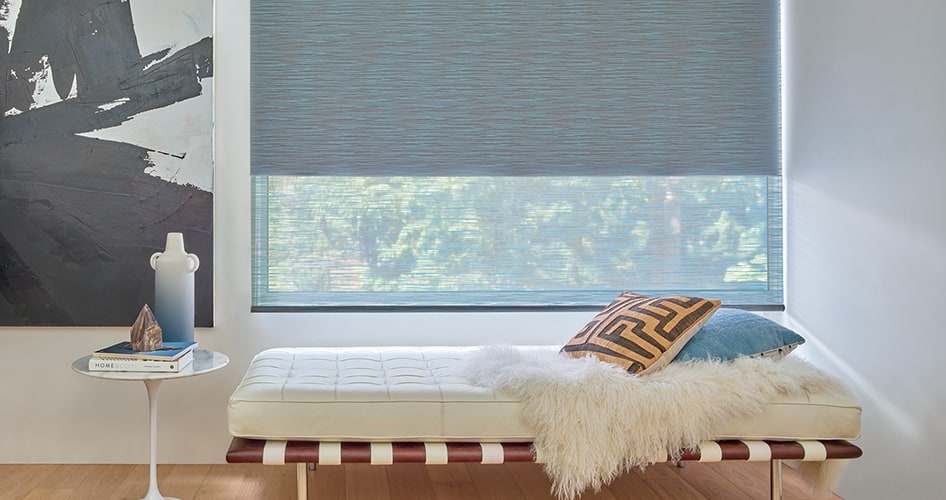 Roller Shades & Screen Sun Shades will allow you to customize how much light comes in, while still keeping your space bright. Should you want the option for your space to be lightly shaded or completely darkened, the Hunter Douglas Roller Duolite® Shades feature a sheer and black-out option within the same shade so you can control the light in your workspace completely.
Regulate the Temperature in Your Space with Cellular Honeycomb Shades
If you're in a smaller workspace, or in an area of your home that can change temperatures quickly depending on the location, adding a window treatment that can regulate the temperature will help increase your concentration.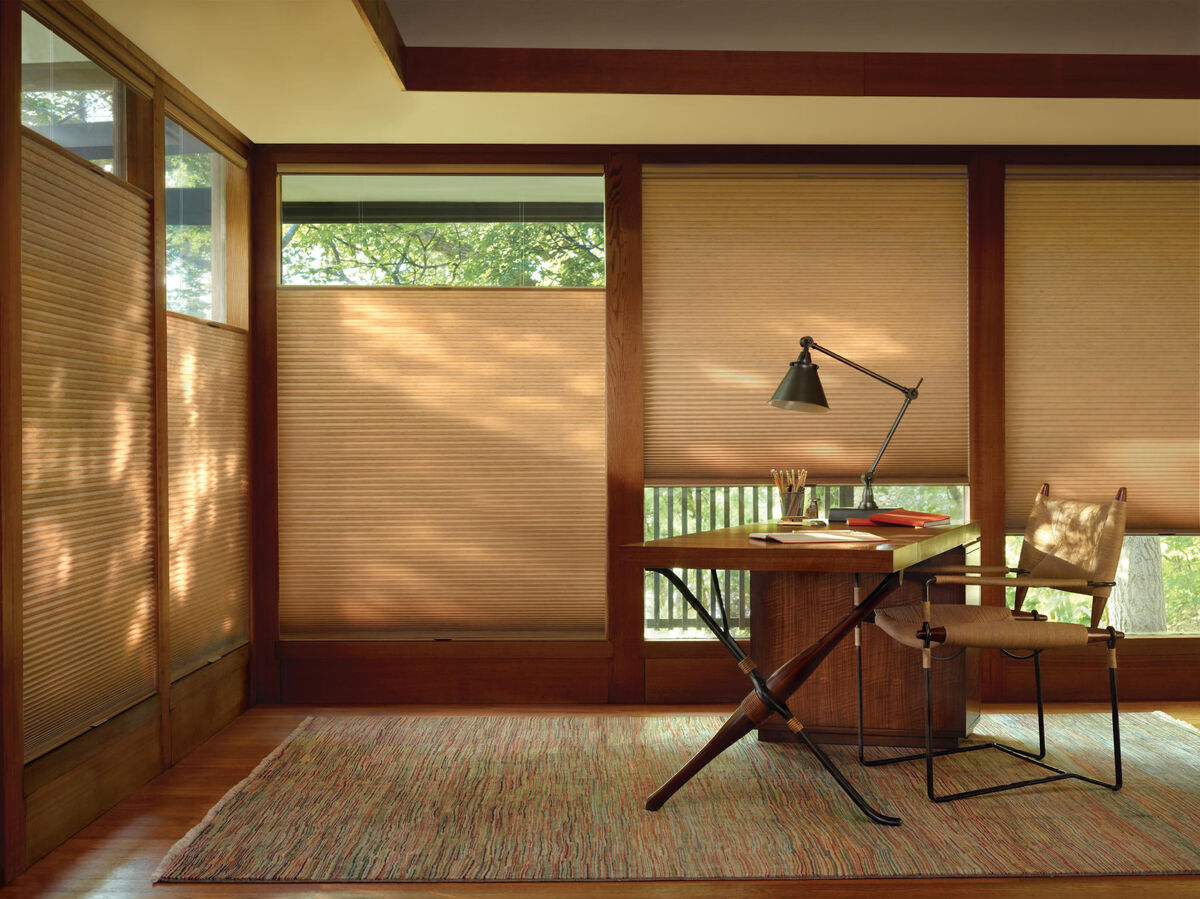 The Hunter Douglas Duette® or the Duette Architella® Honeycomb Shades are both great options for keeping your space warm or cool, depending on your needs! The unique honeycomb design that both of these treatments feature traps air, resulting in increased insulation. These options also come in a range of fabrics and designs, so you can not only create a comfortable living space, but a beautiful one too. The Duette® Honeycomb shades are excellent for any type of working area in your home.
If you're looking to add a feature that has extra protection from the sun's harsh rays, the Hunter Douglas Top-Down/Bottom-Up option is perfect for your home! Adding this function to your Duette® Shades, or other select treatments from Hunter Douglas will allow you to raise or lower your shades from the top and the bottom, giving you the extra protection you need while still letting in that bit of sunlight.
Stay Focused with PowerView® Automation
Having a space that you can stay focused in is important, and with the right window treatments, you can stay productive for as long as you need. By adding the Hunter Douglas PowerView® Automation feature to your treatment of choice, you can avoid distractions and stay present. The PowerView® system can be added to any of the Hunter Douglas products, and allows you to close your blinds, shades or rollers with ease. With either the Pebble remote, voice activation (with compatible smart-home devices such as Alexa) or by setting your Hunter Douglas Powerview Hub on an hourly schedule based on your day, you can filter yourself from outside distractions and direct sunlight.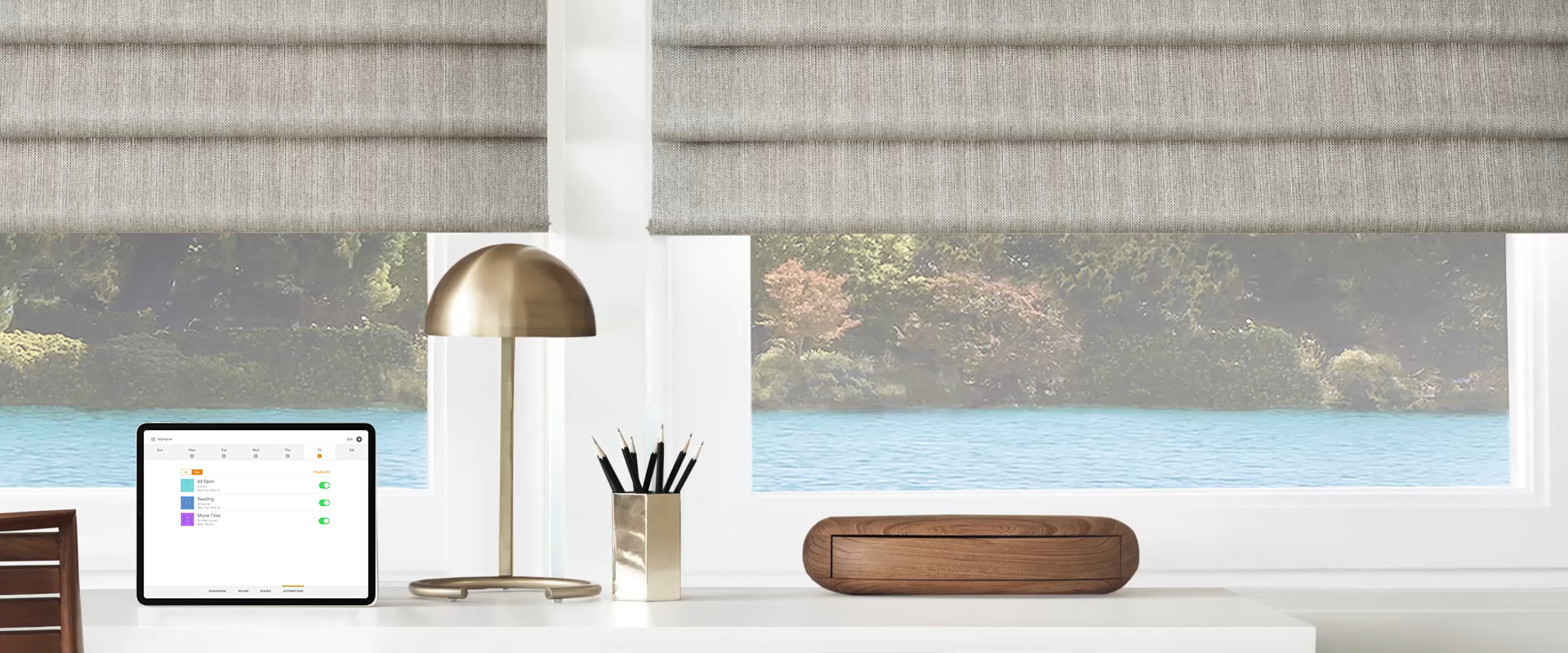 Our team of experts is here to help you choose the perfect window treatment for your home office or workspace. Reach out to us here to receive a free quote on the treatment you think will suit your work-from-home-needs the most! If you have any questions about improving your home's workspace by adding window treatments, our team is always available for you. Give us a call here.