When it comes to enhancing the beauty and functionality of your home, window treatments play a significant role. While off-the-shelf window treatments may seem like a convenient option, they often fall short of meeting your specific needs and desires. This is where custom window treatments shine. In this blog post, we will explore the benefits of investing in custom window treatments.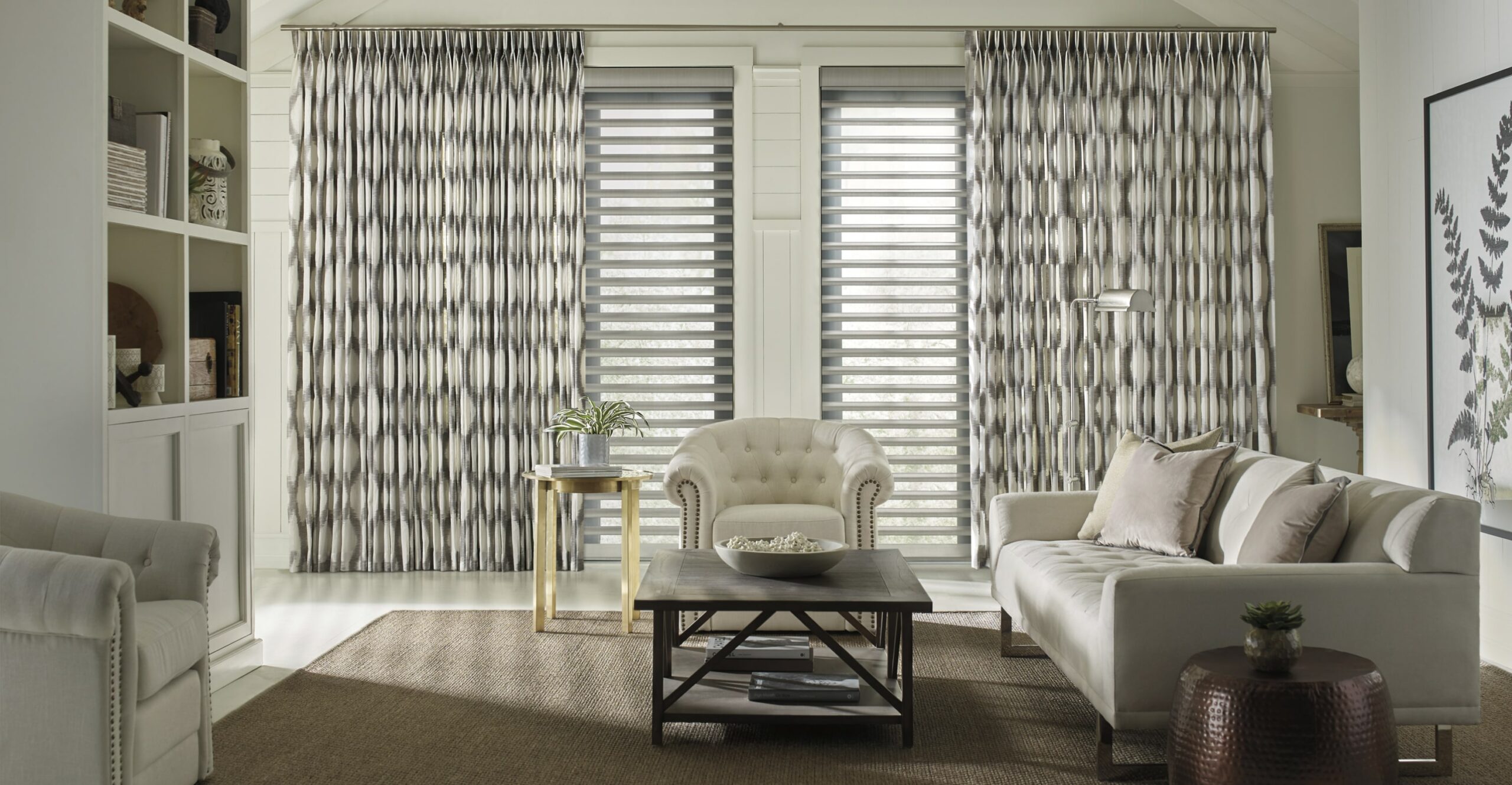 Tailored Fit:
One of the biggest advantages of custom window treatments is the ability to achieve a precise and tailored fit for your windows. Every window is unique in size and shape, and ready-made treatments may not provide an ideal fit, resulting in uneven gaps or excess fabric. With custom window treatments, we, at Sun Shades Window Fashions create treatments specifically tailored to your windows, ensuring a flawless and seamless appearance. This tailored fit not only enhances the aesthetics but also improves functionality by maximizing light control and privacy.
Endless Fabric Choices:
Choosing the perfect fabric for your window treatments can significantly impact the overall style and atmosphere of a room. Ready-made options often have limited fabric choices, making it challenging to find the ideal match for your interior design vision. Custom window treatments, on the other hand, offer an extensive range of fabric options, including high-quality materials, patterns, textures, and colours. Whether you prefer luxurious silk, cozy velvet, or versatile cotton, you can find the perfect fabric to complement your decor and create a cohesive look throughout your home.
Personalized Style:
Every homeowner has their unique style preferences, and off-the-shelf window treatments may not align with your specific aesthetic vision. Custom window treatments provide the opportunity to bring your design ideas to life. From traditional to contemporary, minimalistic to bold, custom treatments can be tailored to match your personal style and seamlessly integrate with your existing decor. Working closely with a designer, you can choose the desired header style, pleat type, trim, and decorative hardware options, ensuring that your window treatments become a true reflection of your individual taste.
Enhanced Functionality:
Custom window treatments offer more than just visual appeal. They can be designed with enhanced functionality to meet your specific needs. Whether you require blackout shades for a bedroom, motorized blinds for convenience, or energy-efficient cellular shades for insulation, custom treatments can be customized with the features that best suit your lifestyle and requirements. This level of personalization ensures that your window treatments not only look beautiful but also serve a practical purpose in your daily life.
Superior Quality and Durability:
Investing in custom window treatments means investing in superior quality and long-term durability. Custom-made products are crafted with attention to detail, using premium materials and expert craftsmanship. Custom treatments are built to withstand daily use and retain their beauty over time. From the stitching to the hardware, every aspect is carefully considered to ensure durability and longevity. Custom window treatments are an investment that will continue to enhance your home's aesthetic appeal for years to come.
Professional Guidance and Expertise:
Designing and selecting window treatments can be a daunting task, especially when faced with numerous options and style considerations. The advantage of custom treatments lies in the expertise and guidance provided by our design experts! Working with us, you will benefit from knowledge of current trends, design principles, and functionality requirements. We will guide you through the selection process, offer valuable insights, and ensure that your window treatments not only meet your expectations but exceed them.
Cost-Effective in the Long Run:
While the initial cost of custom window treatments may be higher than their off-the-shelf counterparts, they offer exceptional value in the long run. Custom-made treatments are built to last, reducing the need for frequent replacements or repairs. Their durability ensures that you won't have to spend additional money on subpar products that may deteriorate quickly. Furthermore, custom treatments can contribute to energy efficiency by providing better insulation and light control, which can result in long-term energy savings and reduced utility bills.
Custom window treatments offer an array of benefits that make them a worthwhile investment for any homeowner. The superior quality, durability, and functionality of custom-made products ensure that your investment will continue to enhance your home's aesthetic appeal into the future. Choose custom window treatments for a truly transformative and satisfying experience. Collaborate with our team and get a free quote online or call us to start brainstorming your vision!