Having automated window treatments is increasing in popularity due to the time they save, the positive impacts on your sleep, and their energy efficiency. Knowing you want motorized shades is one thing, but knowing where to start is another. Our experts put together this blog to help you feel more confident when choosing blinds for your smart home.
The Key Differences between Manual and Motorized Window Treatments
As the names would suggest, manual blinds require you to open and close them by hand. This may be by wand or by lifting them up. Automated blinds are just that – they use an advanced automation system to work on your schedule, or can be set to operate based on conditions like light-level and temperature. 
There are a lot of reasons to choose motorized blinds. If you're looking to save time, boost your home's energy efficiency, and protect your furnishings from fading, automation is the best choice. Motorized window treatments are also great for families with pets or small children since they completely eliminate the risk of your loved ones becoming tangled in the cord.
Choosing Your Automated Window Treatments
Our number one choice for automated window treatments is the newly redesigned Hunter Douglas PowerView® generation 3.  PowerView® shades are ideal both because of their enhanced automation features, and because they don't limit your freedom to customize your space. 
PowerView® goes a step further than most motorized shades, allowing you to not only set them by time, but to match sunrise and sunset, adjust based on the temperature of your home, and activate security systems including closing the blinds, locking the doors, and arming your already in place security features.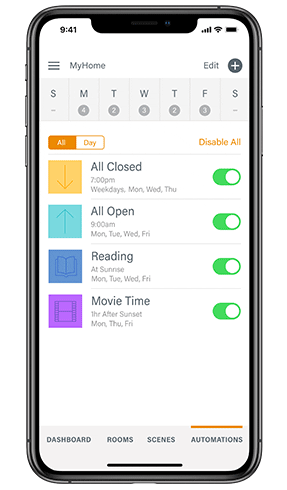 The Hunter Douglas PowerView® App
These shades also offer extensive system integrations, including Alexa, Google Assistant, Apple® Home Kit™, and most common smart home systems. For the full list of compatible integrations, check out the Hunter Douglas website.
Our final reason we love PowerView® is because of the extensive design options. It is compatible with all Hunter Douglas shades. When you choose Hunter Douglas shades you'll also have dozens of fabric and material choices. To find out more details, get in touch with our team.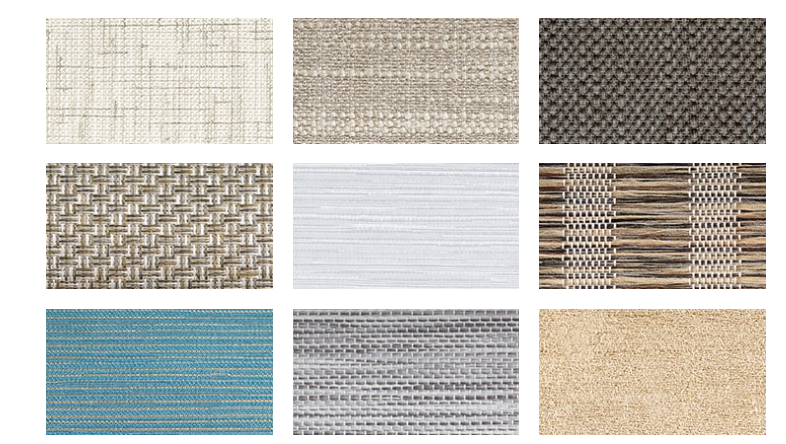 A sample of the fabric choices for Hunter Douglas Vignette® Roman Shades
Take your smart home to the next level. Receive a free quote on your custom PowerView® shades.
For more information, visit our PowerView® page.