When we go outside, we all know that wearing sunscreen is one of the best ways to protect ourselves from the sun's rays and the damage they may inflict. Do you know how those same sun rays affect your house furnishings? 
Sunlight has its drawbacks, and coping with UV radiation is difficult because it exists even when the sun isn't shining on gloomy days. Discoloration and fading of your carpeting, furniture, artwork, fabric, and paint is caused by harmful UV radiation. Proper window treatments are the only way to prevent your treasures from direct sunlight.
Let's take a closer look at the effects of UV light in your home, and how to pick the correct window shades to protect your home from sun damage!
What are the effects of sun rays on house furnishings?
Natural light is wonderful, but it can be damaging to your furniture over time. Fading, staining, and even damage to fabric can be caused by direct or indirect sunlight. UVA and UVB rays, as well as heat and infrared energy, do the most damage. UV rays are the most harmful because they are present all the time, even on cloudy and rainy days. Unprotected windows allow UVA and UVB rays to permeate your home, causing damage to your furnishings over time. 
Options for Window Shades to Protect Your Home
Many people believe that tinted windows help block off the sun's rays, but they only do so to a limited extent and still allow heat to get through. Window treatments keep your home cool while blocking damaging sunlight. 
Window coverings that help shield the interiors are recommended to protect the inside of your space. As an added bonus, they also help regulate the heat in your home so you save on heating and air conditioning.  Here are some of the best treatments recommended by our experts: 
Solar Shades
To block UV rays, install sun shades on all interior east and west-facing windows. Look for interior shade material that provides a 90 percent or higher level of UV protection, absorbs heat, and decreases glare. Purchase an internal solar screen that will fit inside the entire opening of the window for the best effects.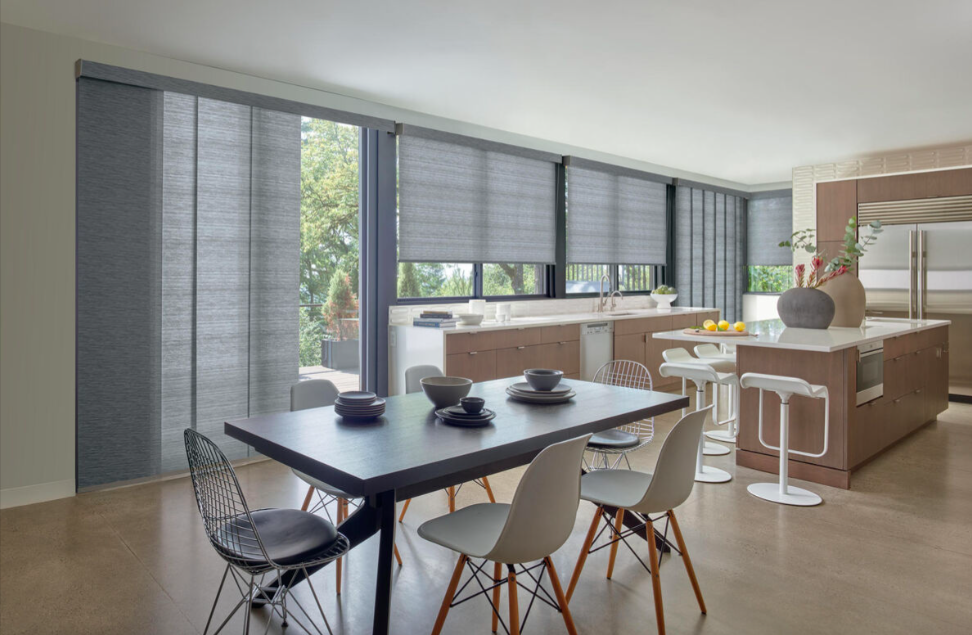 Designer Screen Shades
Honeycomb Shades 
Honeycomb shades are a softer, more appealing option for reducing UV rays in settings where aesthetics are a priority. Honeycomb shades block the same amount of UV radiation and heat as solar shades, and in some cases even more. Honeycomb shades filter light yet do not allow visibility through the window treatment.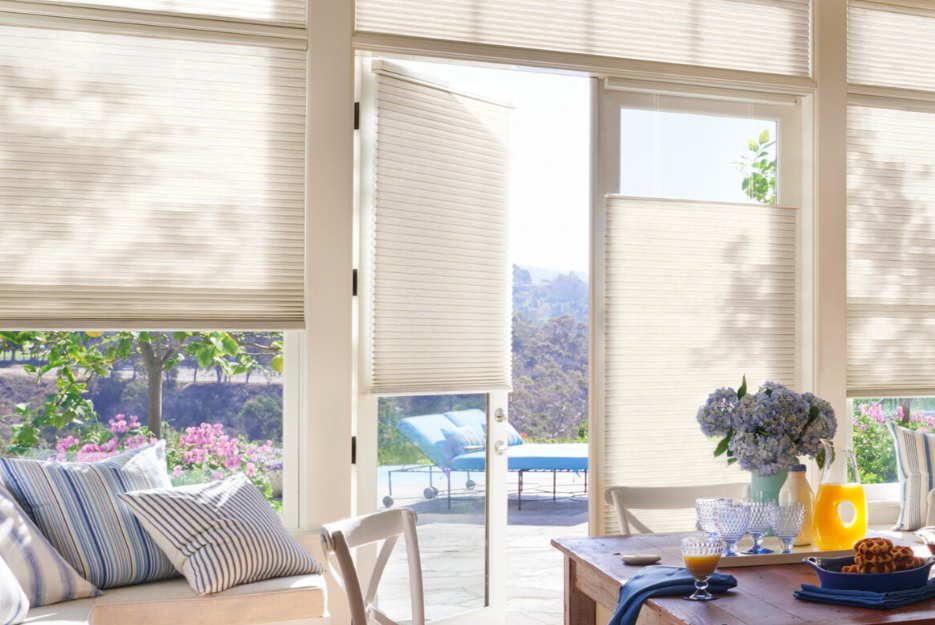 Duette Honeycomb Shades
Get in touch with one of our window treatment specialists if you're still not sure about which window shade solution will be best for you. Visit our stores or call us today to schedule a consultation for high-quality materials and the latest window blinds for your home!