Window treatments can bring a warm and comfortable look to any room, they can provide the perfect amount of shade, and help ensure privacy where it's needed. By layering your window treatments, you can truly customize your selection based on your needs, and you can create a dimensional look a lot of home owners look for.
Let's take a look at the different types of layering techniques using shades, blinds, or drapes that can help beautify your space. 
Customized for you 
Your layering options will vary depending on your treatment of choice, but there is a way to customize almost every option! You can mix wood or composite blinds with your curtains to achieve a modern look while also filtering light to maintain privacy. Or, if roller shades offer the soft look you're going for, layer with curtains or drapery in matching tones in order to luxuriate your space. 
Sun Shades Tip: Clashing colours can take away from the look you might be going for, so be sure to use colours that complement your furnishings or walls to create a more coherent look in your home.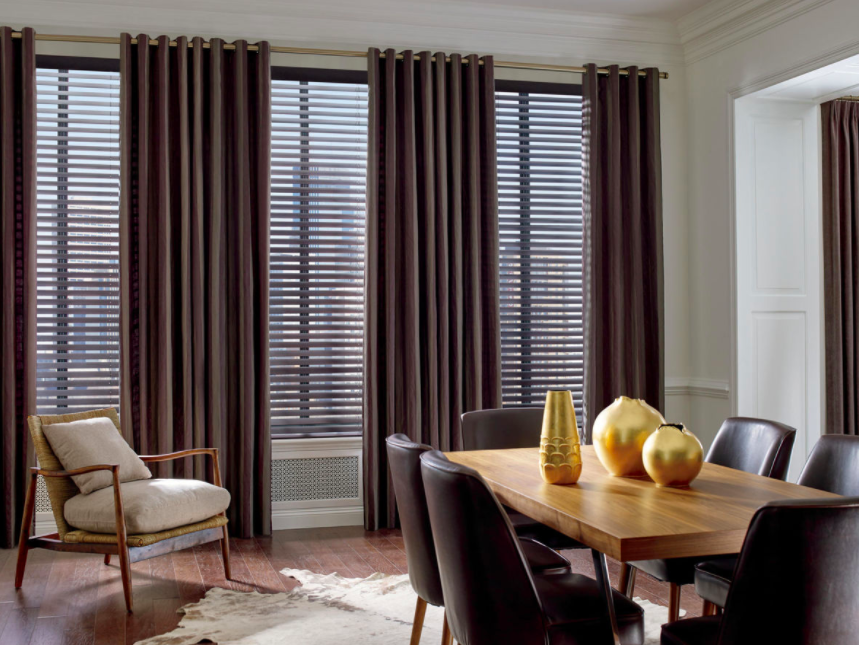 Hunter Douglas Parkland Wood Blinds
Layering on the same window
There are several methods to accomplish this wonderful match of blinds or shades and curtains on the same window, whether you want to boost your privacy or simply make your space more beautiful. One of which is adding blinds/shades of a different hue to your floor-to-ceiling drapes. By adding treatments that are contrasting to your drapery, specifically in a lighter hue, you can create a balanced look while also allowing maintaining more control over the amount of light that enters your space. This fantastic combination of colour and light filtration could be a great option for a master or child's bedroom.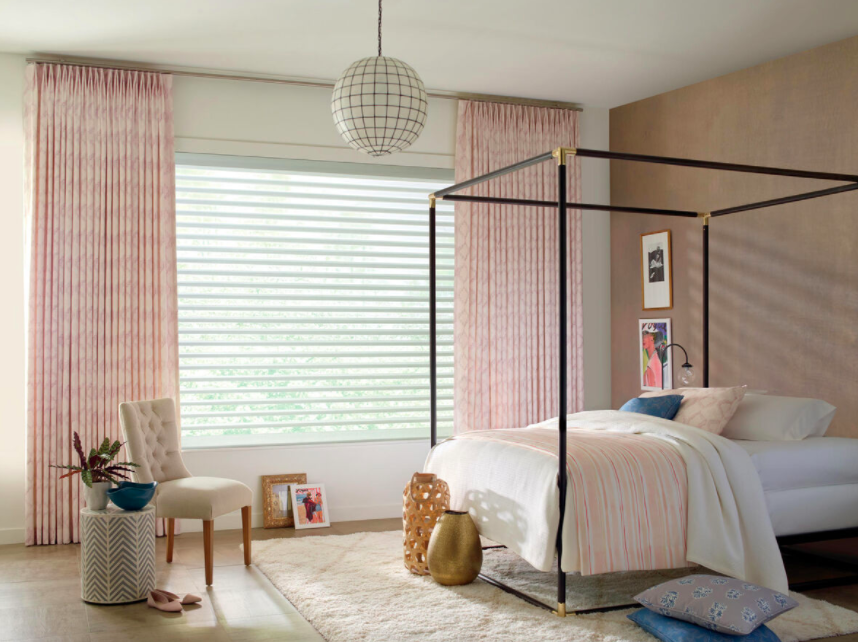 Hunter Douglas Design Studio™ Side Panels & Drapery
Layering different styles in the same room
If you want to experiment with different blind and curtain combinations in the same room, the concept may turn out to be more imaginative than you thought! By mixing and matching blinds and drapes in the same space on different windows, you might just create a distinctive look that is unique to you and your space. 
Sun Shades Tip: If you have an open concept space, and you're going to try out different layering techniques throughout one large room, consider sticking to one colour palette and avoid patterns on your drapery. Adding texture and variety through different treatment options can make an open space feel like there are small zones within it, but clashing elements can create visual distractions. 
Is layering the best choice for your home? 
You should know the desired impact of your window treatments before you start thinking about how you want to layer them. Are you layering your window treatments just to improve the room's look, or will the combination of blinds and curtains serve additional purposes, such as filtering excess light that comes through your windows or regulating temperature? Do you want your treatments to feel cohesive with the rest of your home's decor, or do you want them to stand out? 
There are a number of questions to ask yourself before you start planning, but that's what we're here for! We can assist you in determining the finest options for layering your treatments in order to create a consistent design style across your home. Ready to get started? Click here for a free quote on your next project!