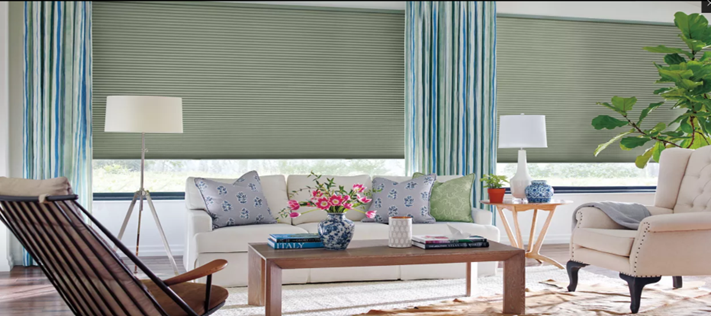 As the leaves change colour and a cozy chill fills the air, fall is the perfect time to update your home's decor to reflect the season's warmth and beauty. Window shades play a significant role in setting the ambiance of your living spaces, and choosing the right style can enhance the cozy and inviting atmosphere that autumn brings. Here are some of the best window shade styles for fall:
Woven wood shades, also known as bamboo or natural shades, are an excellent choice for bringing the rustic charm of fall indoors. Crafted from natural materials these shades add a touch of nature-inspired elegance to your windows. Their warm earthy tones and textured weaves create a cozy and inviting atmosphere, perfectly complementing the fall season.
Roman Shades in Rich Hues:
Roman shades are a classic window treatment option that exudes sophistication and style. For fall, opt for Roman shades in rich and deep hues like burgundy, burnt orange, or olive green. These colours evoke the changing foliage and warm tones of the season, infusing your living spaces with a cozy and autumnal vibe.
Corduroy roller shades are a trendy choice for fall, combining comfort and style in one package. These shades feature a soft and plush fabric with a texture reminiscent of corduroy fabric. Choose warm and muted colours like cinnamon, terracotta, or mustard to evoke the essence of fall and create a welcoming ambiance in your home.
Plaid or Tartan Cellular Shades:
Nothing says fall quite like the classic patterns of plaid or tartan. Incorporate these timeless designs into your window shades with cellular shades in plaid or tartan patterns. These shades not only add a cozy and traditional touch but also provide excellent insulation to keep your home warm during cooler autumn days.
Sheer layered shades are an elegant and versatile option that works well for fall. The combination of sheer and solid fabric panels allows you to control natural light while adding a soft and ethereal look to your windows. Choose sheer panels in warm colours to enhance the fall ambiance and create a dreamy and romantic atmosphere.
Paisley Patterned Shades:
Paisley patterns exude a sense of bohemian chic that pairs perfectly with the free-spirited essence of fall. Consider roller or Roman shades in paisley patterns with hues of deep reds, blues, and browns for a vibrant and artistic look.
Dark bamboo blinds offer a sense of coziness and sophistication, making them an ideal choice for fall. The rich chocolate or espresso tones of these bamboo blinds add warmth and elegance to your living spaces, creating an inviting atmosphere as the temperature drops outside.
Make the most of fall's changing daylight with motorized smart shades. These high-tech window treatments can be programmed to open and close automatically based on the time of day, maximizing natural light and energy efficiency. Embrace the fall colours outside while also ensuring comfort and convenience indoors.
Updating your window shades to match the season can instantly transform your home's ambiance and embrace the spirit of fall. Whether you opt for woven wood shades, Roman shades in rich hues, or corduroy roller shades, these stylish choices will infuse your living spaces with the warmth, comfort, and charm of autumn. Embrace the changing season and create a cozy haven inside your home with these fall-inspired window shade styles. Transform to fall with our team of experts, talk to us about your needs and get a free quote!