We are entering a brand-new year and we can't think of a better time to explore new ways to refresh your space. Window coverings are a great place to start when it comes to upgrading your home design. They not only give your rooms a polished look, but also help save money on heating and cooling by blocking out light and insulating your property.
Our team hand-picked a number of window treatment trends to give you the inspiration you need in order to beautify your interior space.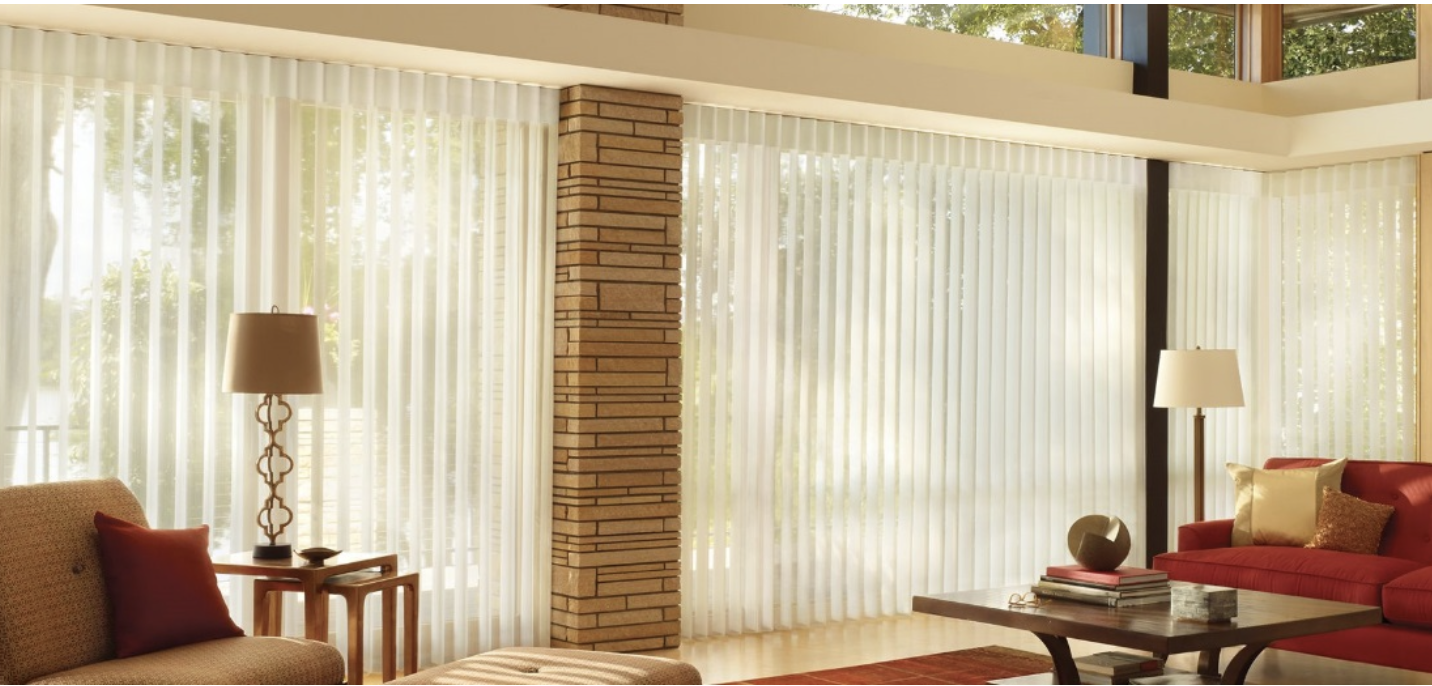 Hunter Douglas Lumiette Privacy Sheers
Clean lines for the living room
One of our tips that never goes out of style is to start fresh with clean lines. Your living room is frequently the first room that your visitors see. As a result, making a positive first impression sets the tone for the remainder of your house. With the right treatments, you can create a warm, homey, and streamlined look so you can truly make your house your haven!
Soft drapery such as the Hunter Douglas Luminette Privacy Sheers offer clean lines and creates a sumptuous appearance. The patented headrail design moves smoothly and silently along your windows which adds a modern and simplistic look.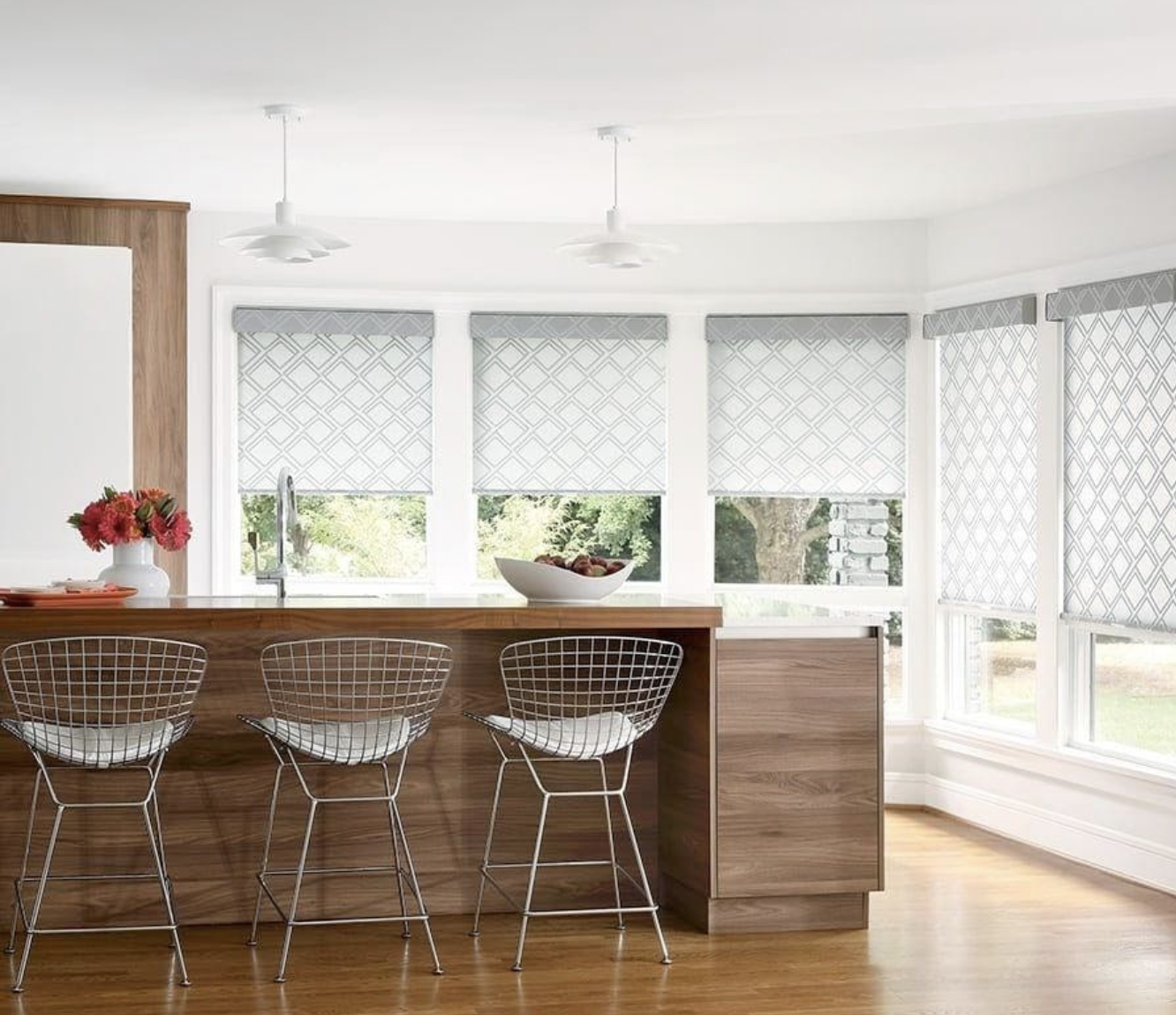 Hunter Douglas Designer Roller Shades
Florals or stripes in the kitchen
Select patterns with stripes or flowers that disguise kitchen messes like grease and other stains, and fabrics that are machine-washable so you have a simple solution for keeping your treatments fresh and new. Patterns are also a great way to bring flair to appliances and cabinets that aren't as colourful.
Bonus tip! Choose durable materials that can withstand many washings and avoid ornamental embellishments that are not machine washable so you don't have to worry about losing any flare from your treatments.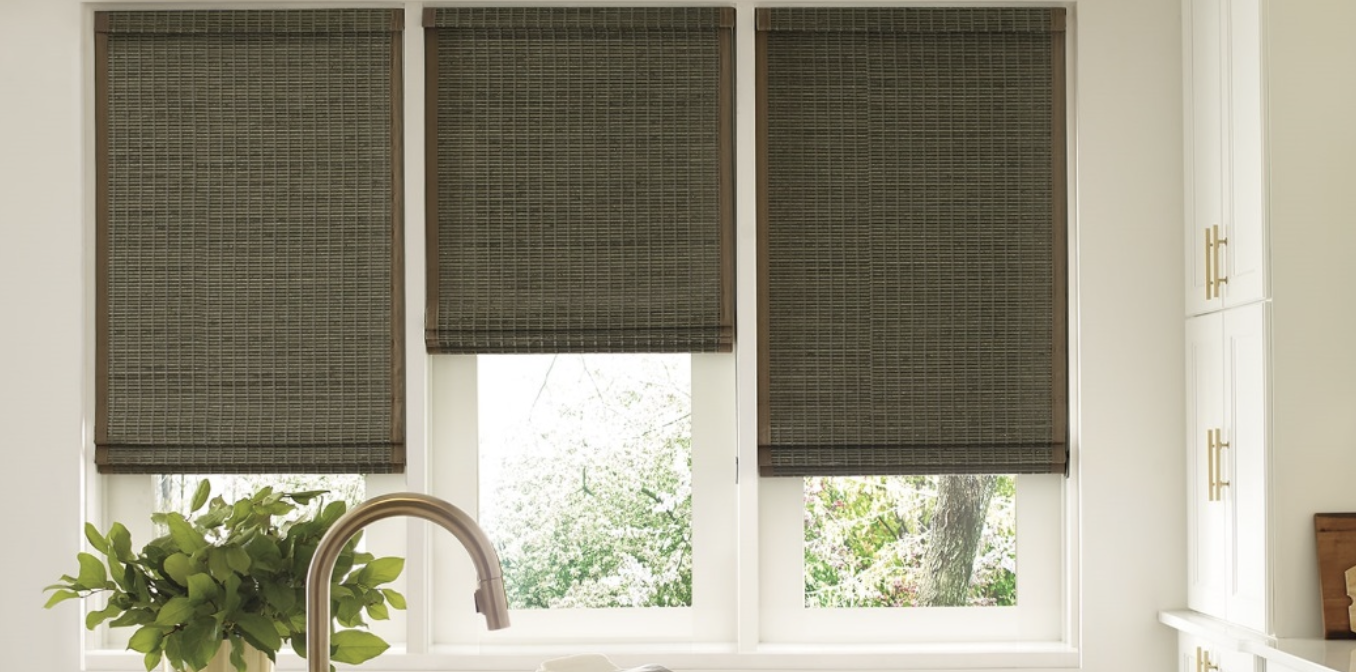 Hunter Douglas Provenance Woven Wood Shades
Add mixed materials in the family room
The family room is typically a meeting spot for loved ones and close friends to unwind. Window coverings that give seclusion while also providing creative elements that make your room one-of-a-kind may be used to enhance intimate gathering places.
For a natural, bring-the-outdoors-in appearance, try layering drapes over woven shades. An easy way to add this is by using hand-woven options, like the Hunter Douglas Provenance Woven Wood Shades. They add natural beauty by creating a design story of light, texture, and colour for every window in your home.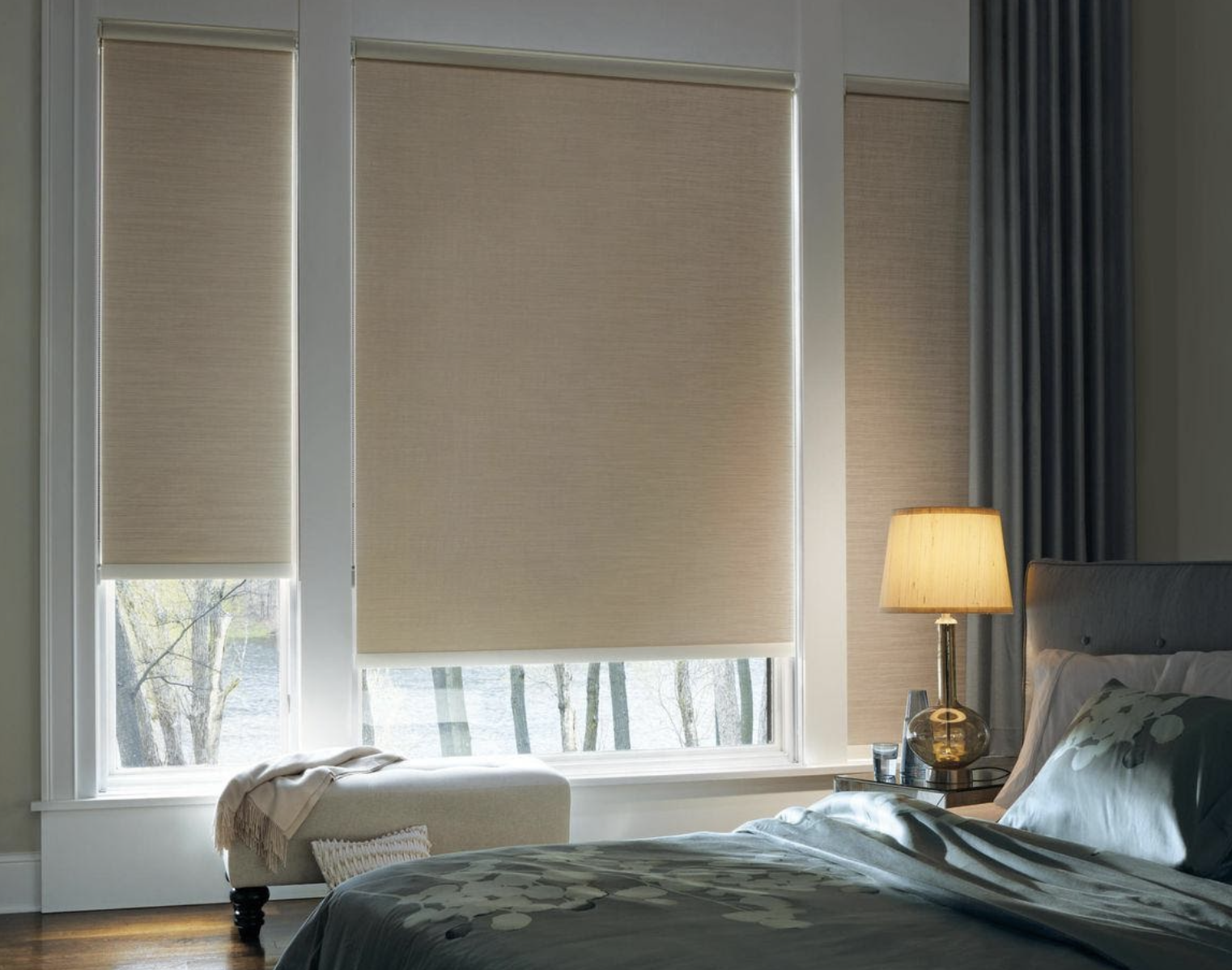 Hunter Douglas Designer Roller Shades
Light and sound-proof curtains for bedrooms
Everyone should make great sleep zones a priority, so try using blackout curtains with sheers to let light in throughout the day while maintaining seclusion. Controlling light may help guarantee that family and guests sleep peacefully, whether you're arranging a primary bedroom, a kid's room, or a guest bedroom. These curtains can also be relied on to give the sound control since they are built of strong, heavy insulating materials.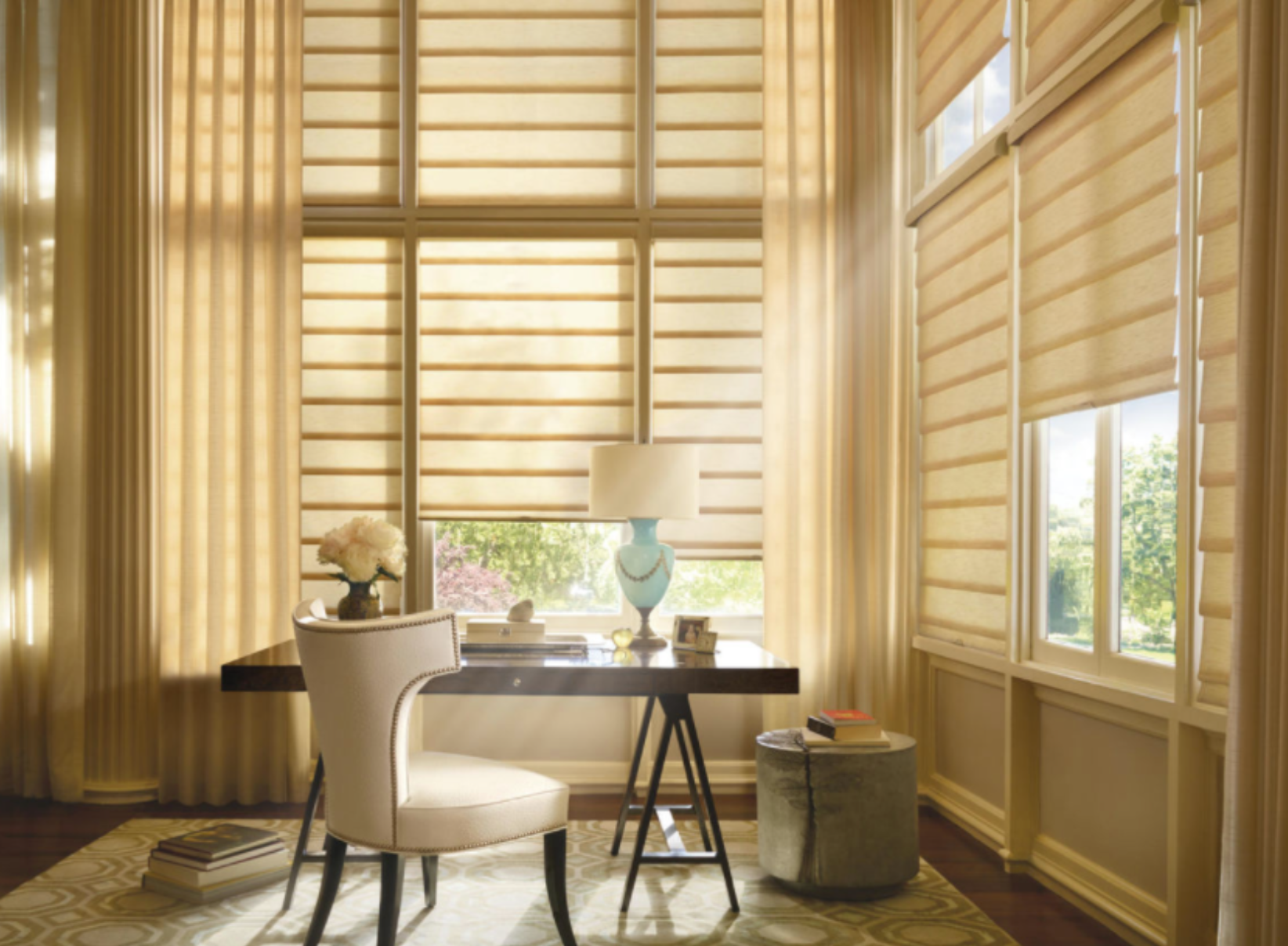 Hunter Douglas Vignette Modern Roman Shades
Home office shades
Working from home wasn't always the way of life, but for many it is the new norm. As a result, we now design rooms to act as offices that offer privacy while also serving as guest rooms or other living spaces.
Choose blinds or shades that take the hassle out of light management. Many designs, materials, and colours are available for Roman Shades, Roller Shades, and Wood Blinds. Light management is crucial when it comes to home offices for the sake of all of those Zoom calls and quick 10-minute power naps! Adjustable shades are an excellent way to control virtual conversations and maintain focus.
Wrapping it Up
Window decor is a necessary component of well-balanced and harmonious interior design. By updating your window treatments, you can create a long-lasting design change that will completely transform your space. Focus on the look and feel while also ensuring you have the right amount of light, soundproofing, and longevity so your space can remain functional, comfortable and relaxing for as long as you need.
Ready to begin updating for 2022? Check out our full list of indoor window treatments here, or contact us directly and we will be happy to help!